Pilar's playlists edition 7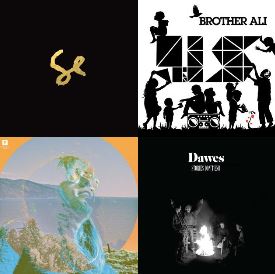 Hello, my loyal readers! (Hey Mom.) After a brief summer and half of first semester hiatus, I am back and better than ever. I'm pretty much the same. I feel like I need to get to know you guys a little better, or really you need to get to know me better. So, a little bit about me: I'm the youngest child in my family and the only girl. I have two older brothers: Gabe and Sebe. Gabe is seven years older than me, and Sebe is three years older than me. Most people expect me to say that growing up with two older brothers made me really tough. They expect me to say that Gabe and Sebe tormented me and beat me up. Really, it was the other way around. I once knocked out Sebe's two front teeth after he cheated in a game of Clue. I was also a tattle tale, so my brothers really couldn't be mean to me because who are my parents going to believe? An adorable six-year-old with doe eyes, or a scrawny 13-year-old who strongly resembles Shaggy from Scooby-Doo?
One thing I did get from my brothers was my love for music. As much as I hate to admit this; they have really good taste in music. So this week's playlist is dedicated to them. I have compiled a playlist of songs that my brothers introduced to me. "brejes" is a mix of music that's hard to describe. All of the songs on it are very special to me because they remind me of my brothers, who by now have moved out and started their adult lives.
Although the music ranges from several genres and decades, they somehow seamlessly come together to create a vibe that to me, feels comforting. I guess the feeling of this playlist is kind of like a rainy Sunday morning from your childhood, when you would build a fort with your siblings, except now you're 17 and Childish Gambino is playing. Makes sense, right?
Favorite Song: Put Your Records On by Corinne Bailey Rae
I think this is everyone's favorite song honestly. This song never gets old and every time I hear it I can't help but dance. The simple beats and catchy lyrics create an upbeat, positive vibe that just makes you want to smile.
Hidden Gem: From a Window Seat by Dawes
It is a well-known fact that Dawes is my favorite band. Normally, their music is very slow with a strong piano presence. This song differs from the norm in that it is much faster and features stronger electric guitar and drum rhythms. Despite straying from their normal style, the song still upholds the lyrical mastery that made me fall in love with the band in the first place.
Artist to watch for: AJJ
I have two words to say: folk punk. Yep, AJJ is a folk punk band. When I first heard this I was honestly disgusted because folk punk is one of the least appealing genres I could think of, but AJJ pulls it off flawlessly. The band's most recent album came out in 2016, and their songs take on heavy topics and typically include some social commentary. They impressively pull off a feat that seems impossible.