Senior film directors enter silent film festival
Greg Smith, Assistant Opinions Editor
December 1, 2017
After a month of work, LTTV entered its six-minute film directed by Dom Campo '18 and Cooper Bearman '18 into the Student Silent Film Festival, which took place on Nov. 11. The event was hosted at the Sanfilippo Estate, home to the largest privately owned theatre organ in the world and the family's massive collection of turn of the century machines and artifacts, including a late 19th century French carousel.
"It's like going back in a time machine to the heyday of silent film," LTTV sponsor Bill Allan, who is one of the founders of the event, said. "There's really nothing like it."
The plot of the movie, "Insomnia," centers around a main character who lives with insomnia and his daily routine. The main character is played by Jon House, a production assistant for the TV show "Chicago Med," who coincidentally suffers from insomnia, Campo said.
The inspiration for the movie came from a personal experience Campo had of sleep deprivation, he said. With his idea, he worked with his fellow students and Allan in order to prepare a plot and conclusion for the film.
The entire film was filmed in only 48 hours, which presented challenges with time and transportation, Campo said.
"We probably could have taken more time filming," Campo said, "but it was a really good learning experience."
All films were scored live by a piano accompanist with their screenings. Contestants were given recordings of the live piano scorings to go with their films, which are 10 minutes long at a maximum. "Insomnia," did not place among the top three at the Nov. 11 film festival, and so was not scored by the theatre organ.
The top three contestant films were accompanied with the theatre organ by world-renowned professional organist Jelani Eddington.
"It's the kind of thing you would pay sound designers to do," Allan said.
The films were judged by industry professionals, some from Los Angeles, Allan said. The event got off the ground in large part due to Ed Newmann of Calabash Animation in Chicago, a special guest judge at LT's own film festival, Media Arts Night of Entertainment (MAINE), Allan said.
In addition to the opportunity for the students to have their work scored by professional musicians, industry professionals at the event also provided students with excellent networking opportunities, Allan said.
"I'm glad to have had the experience of making the film, and the addition to my portfolio," Campo, who plans to study film in college, said. "I learned how to express my vision to other people and I'm excited to see the results and the other contestants."
About the Writer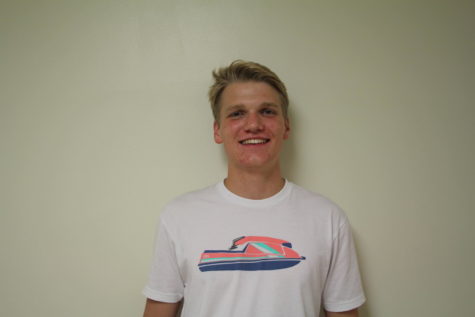 Greg Smith, Managing editor
There's no such thing as a free lunch.