LT student launches clothing line
Senior designs denim skirts out of old jeans
Rose Peters '18 suddenly picked up her cell phone and texted her mom an idea she just thought of: a denim skirt clothing line.
"I got the idea while I was studying abroad in France," Peters said. "A lot of girls were wearing them, but I didn't really know where to get them, and I was like, 'I could totally just make this.'"
Peters was living in France last year through an association for 10 months with a host family, as well as with her best friend Miranda Vickery '18, when she got her inspiration for her business.  
"I remember when she first told me about it," Vickery said. "I was surprised because obviously I had no idea; it's not very normal for someone our age to be starting a business."
Peters buys vintage Levi jeans on Craigslist and sews them into skirts that she sells on her website and promotes on her Instagram, both which are  named "Knavishlad," Peters said.
"[Knavishlad] is from a quote in 'A Midsummer Night's Dream,' that is about how love makes people crazy," Peters said. "I liked the way it sounded. That's where I got the cupid from for my logo, too."
Each skirt sells for $50 and she takes about 30 minutes to make one skirt by hand. The jeans she buys are $8 per pair. Since she began in July, she has sold about six skirts, Peters said.
"I like that she chooses different washes of jeans," Vickery said. "She uses dark wash, black, light wash, she'll do more fringing at the bottom or less."
Peters plans to study business in college and receives most of her help for her business from her mother, who owns a photography business, so she was able to help Peters with the website and promotion factor, she said.
"I've been thinking about that, [selling them in stores]," Peters said. "It would be hard to mass produce for several stores, but maybe local places or somewhere downtown that's just one store. That would be really cool."
Both Peters and Vickery have always been interested in fashion, Vickery said. Peters learned how to sew from her grandmother and now she gets her inspiration from her favorite style icons, Bella Hadid and Kendall Jenner.
"Right now they're all pretty basic and simple," Peters said. "I do some distressing, such as holes and stuff. They're all the same, but I would love to expand and do some different designs, too. I think for the most part I want to focus on [jean skirts] and see where it goes."
The skirts are mostly directed toward teenage girls, Peters said. Many of her friends wear them as advertisement because the biggest challenge right now is promotion.
"It's definitely boosted her confidence and affected her thoughts on what she wants to do when she's older," Vickery said. "Now she's looking at fashion schools in New York and big schools in England."
Peters is unsure of how long Knavishlad will last, but hopes that more students will buy them at LT.
"I watched it grow from just an idea to her having her own business and instagram and seeing people in the hall wearing her skirts," Vickery said. "I have one of her skirts and everytime I wear it I get compliments on it. I'm really proud of her, I think it's great."
About the Writer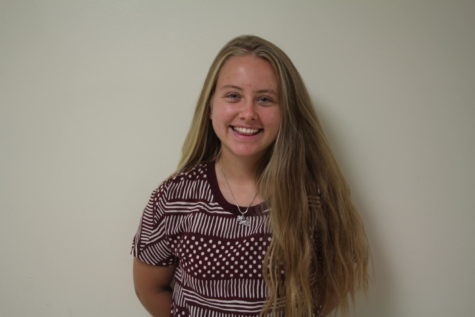 Georgia Dougherty, Pulse co-editor
Things I love include my bulldog Cow, chapstick, sneezing, saying the pledge of allegiance in Latin, and the Oxford comma. Things I don't love are vacuum...