LT football prepares to play against Leyden HS
Hang on for a minute...we're trying to find some more stories you might like.
As homecoming festivities creep up and the game against Leyden approaches, there is one concern that stands out to LT's quarterback J.J. Dutton '19.
"A weakness going into this game would be the size [of the team]," Dutton said. "We aren't that big but we can definitely use our speed for the advantage."
The varsity football team will play the West Leyden Eagles on Bennett field tomorrow, Sept. 22 at 1:30 p.m.
Due to an accident during practice on Monday, Sept. 3, Dutton will not be quarterback for a while, and potentially for the rest of the season depending on what the doctor says, Dutton said.
"I fell on [my thumb] awkwardly," Dutton said. "I'm starting on defense at safety, so I'm still playing."
During practices the team will be trying out different players to fill the quarterback position, Dutton said.
"I am excited about the upcoming home game," wide receiver Aki Matkovic '19 said. "It's a great opportunity to show the community what LT football is all about."
The team has been practicing diligently for around three hours each day, Monday through Thursday normally, with the occasional Friday night game, and then Monday through Friday if they have a game on Saturday, Matkovic said.
"We've been grinding all summer to prepare for this game and once [homecoming] week rolls in I'll spend hours watching film to look for weaknesses and strengths [Leyden] has on both sides of the ball," linebacker/fullback Sean Rickman '19 said.
Although the team persistently trains in preparation for each game, it's important for them to take it one game at a time, and not put too much emphasis on the homecoming pressures, head coach Kurt Weinberg said.
"Honestly, for me, I view it as just another home game to stay out of my head and not cause any nerves about the magnitude of the game," Rickman said. "I know some of the other guys use the fact that it's homecoming to hype themselves up."
The homecoming game holds value not just for current students and faculty, but for alumni as well, Weinberg said.
"It's always nice for the alumni to come back and see a victory and see that the team is doing well," Weinberg said. "It's a fun event for everybody."
The team is ready to bring its energy out on the field in order to remain motivated, but still need the spirit of the student body for a boost, Matkovic said.
"It is one of the few times throughout the year that the whole school gets excited about one sporting event, and at a school as big as LT these moments are few and far between," Rickman said.

About the Writer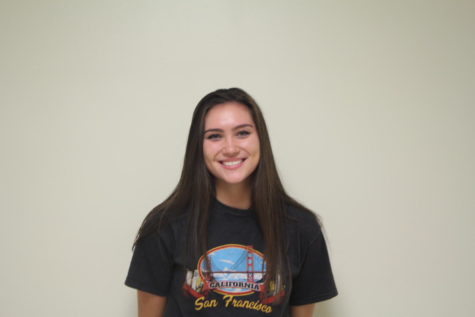 Maggie Kahn, Reporter
Yes, I have a twin sister that looks exactly like me, and no I can't feel it when you hit her.