Softball readies for Pink Out game
It was frigid on May 6, 2017 when a wave of pink players washed over the LT softball fields for the first Pink Out game in years. Despite the temperature, an exceptional number of fans came to cheer, most of whom were also wearing pink.
"We got way more fans than we usually did and a lot of support from other LT sports and parents and teachers," varsity first baseman, catcher and left fielder Dana Reynolds '18 said. "It was fun because we got to wear pink uniforms. It was a really exciting game."
While the game ended with Tinley Park winning 2-0, the event, when combined with soccer's Pink Out game, raised just under $3,000 for the Karen Dove Cabral Foundation, an organization that supports women fighting breast cancer. Softball will host its second consecutive Pink Out game on April 28 in order to raise money and awareness for breast cancer.
Because of the success of last year's efforts, the team is planning on continuing with many of the same methods of raising money. Pink Out shirts will be sold leading up to the game and during the game, as well as pink ribbons. There will also be a Split the Pot and raffle tickets for gift baskets.
"Even if we're a small piece of the larger puzzle, being able to be a part of collecting money to give to the cause knowing so many people are fighting this battle [is important]," head varsity softball coach Nikki Marinec said.
Marinec also hopes to bring further recognition to breast cancer survivors by attempting to get a breast cancer survivor to throw the first pitch.
"When I played in college, we had a Pink Out game, and we always had breast cancer survivors come out and throw the first pitch," Marinec said. "We tried to do that last year, but both people who were supposed to come cancelled last minute. Hopefully, it's something we'll be able to do this year."
With all the special aspects of the Pink Out game, it is well looked forward to among players, teachers and family members, varsity catcher Payton McQueeney '20 said. The game itself, which is against Hinsdale South, is also likely to be one of excitement.
"I played travel with one of the girls who pitches for Hinsdale South, and she's a really good pitcher," McQueeney said. "It's always fun when we play a team that can compete with us skill-wise because then it's just a closer game, and it's always more fun when it's a closer game."
As of April 11, LT's varsity softball team has a record of 3 wins and 1 loss, while Hinsdale South's team has a record of 2 wins and 7 losses, according to its website. Assuming their games occur as scheduled, those numbers will change before the Pink Out game.
About the Contributor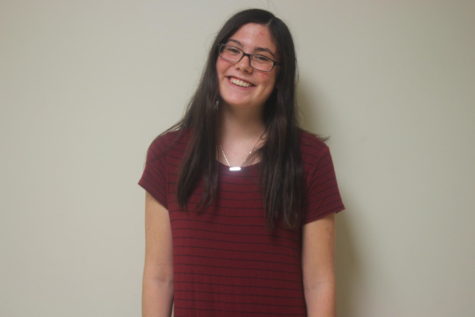 Claire Williams, Copy Editor
Can it please be leaf catching season already?