Athlete of the month: Sean Ryan '18
Hang on for a minute...we're trying to find some more stories you might like.
Since fifth grade, Sean Ryan '18 has dreamt of competing in a Division 1 collegiate sport.  At the time, he was tearing up the field for St. Cletus Middle School's football program.  He considered that to be his sport.  One year later, Ryan was introduced to the sport of volleyball.
"In sixth grade, one of the players for Lions Juniors had a conflict for a volleyball tournament," he said.  "There was a spot for the team, and I was asked to do it.  At the time, I was in the middle of football season, so I wasn't sure about it.  But once I started playing, I fell in love with it."
From that moment, Ryan broadened his athletic resume while also achieving his goal.  He will be attending Ohio State University in the fall and will compete for one of the top teams in the nation.
"I never thought volleyball would be that sport [in college]," Ryan said.  "I'm glad I'm able to fulfill my dream, and I couldn't be happier with the decision me and my family made.  Wins or losses, I know I'll have a great time."
Ryan is gifted physically as an athlete, standing 6-feet 5-inches with a large wingspan.  Last season, he reached a jump touch of 11-feet 7.5-inches.  While his size gives him an incredible advantage, boys volleyball head coach Joann Pyritz praises Ryan's work ethic and integrity as an athlete.
"He works hard at what he does," Pyritz said.  "The thing that's special about [Sean] is he's a nice person.  He cares about people, he likes doing the right thing and he's modest given his ability.  He cares about his teammates and displays respect with the adults he works with.  You don't always see these traits in a high level player.  Sometimes they feel like they're owed something.  That's not how [Sean] is.  He realizes that he can always learn something and he can always teach something."
Despite these incredible abilities, Ryan suffers from Type 1 diabetes.  This condition affected him so much that he had to give up some sports that he loved at a young age, including basketball in middle school.
"I have to take precautions," he said.  "Everyone stretches out and does their routine.  I have my own unique one before every game.  I avoid eating carbohydrates before I play, so I eat a salad with chicken.  I don't want insulin acting up in me while I play."
Before each game, he checks his blood sugar levels twice.  During the game, he checks it again while keeping a Gatorade and sugar tablets near him at all times.  Once the competition is over, he checks his blood sugar levels again.
Despite this condition, Ryan thrives in his athletic endeavors.  One of his coaches sophomore year recognized the potential he had, and recommended that he try out for the USA youth national team.  The summer going into his junior year, he was off to compete globally in Cuba, representing Team USA.
"I was invited to tryout with a team of 24 players," Ryan said.  "We practiced and tried out for 12 spots in California.  After a week and a half, they began to cut players.  I was fortunate enough to make the 12-man roster.  One week later, we were competing in Cuba."
Ryan has participated for LT through club teams, but also as a four-year varsity starter.  In seventh grade, he was competing with the freshman club team.
"This was when I started gaining more confidence in myself," he said.  "I thought to myself, if I can hang with these guys, then I could use them to get better."
He carried this mentality with him to his first varsity season as a freshman.  He felt a welcoming presence from everyone on the team, and it allowed him to become a leader now as a senior, Ryan said.  Ryan's teammates have affirmed his leadership, including Mac Most '18.
"When [Ryan's] on the court, he's not only leading the five players with him," Most said.  "But he's also leading the players on the bench in a way I've never seen before.  He's a great team player.  He knows his role on the court is vital and crucial to our team.  He leads by example and is always there to give you advice or lift you up."
Now, Ryan has realized that it's time to step it up.  Ryan and the team have high expectations for the end of this season, and he hopes to play a crucial role in this, he said.
"Just like every other season, I think we have a chance to make it to state," he said.  "It's a tough sectional this year, but like everyone else, it's not an easy path to get there [state].  Given that I'm a senior and I've known some of these guys for four years, it's going to be a fun ride."

About the Writer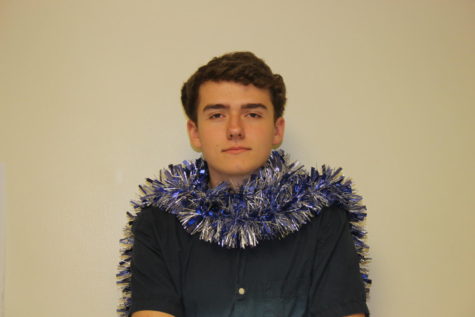 Grant Campbell, News Editor
To whomever it concerns:

You may know me as the News Editor for the LION.  To be honest, I consider myself a duo editor.  If you look on this website,...