Super Bowl LII
Hang on for a minute...we're trying to find some more stories you might like.
Super Bowl LII information:
Sunday, February 4th
5:30 p.m.
Can be found on NBC
Played in U.S. Bank Stadium, Minneapolis, MN
Campbell's Super Bowl LII prediction:
Every second of my life, I think about how much I hate the New England Patriots.  The infamous relationship between QB Tom Brady and Head Coach Bill Belichick not only makes me incredibly jealous that the Bears don't have this type of QB-HC connection, but it makes me sick to my stomach.  I've seen the Patriots dynasty win too many times.  Amid scandals, including "deflate-gate", the debate surrounding Brady finding the Fountain of Youth or the more absurd theory that he is secretly living as a real-life Benjamin Button, the Patriots always find a way to win.  I must admit, it's astonishing.
At 40 years old, Brady isn't answering questions about his retirement; instead, he's remained a top of candidate for the NFL's Most Valuable Player.
On the other hand, the Eagles come into Sunday with an underdog mentality.  After losing potential MVP Carson Wentz to a torn ACL in the regular season, they continue to rack-up wins.  Most recently, they embarrassed the Minnesota Vikings in the NFC championship game.  Their offense has a two-headed beast in the backfield with RBs LaGarrette Blount (a former Patriot RB) and Jay Ajayi.  Furthermore, Nick Foles is proving he's still a capable passer as a back-up QB.  Not to mention, the defensive talent Philadelphia possesses is incredible.  Despite being the number 17 ranked defense in the NFL (the Patriots rank 30th), the Eagles aren't suited to beat the greatest player of all time.
Let's be realistic for a second, the Patriots have Tom Brady.  TOM BRADY.  The leagues only QB to have five Super Bowl victories.  You may ask yourself how teams haven't adjusted to his style of play after 18 NFL seasons.  The simple answer is this: The Patriots have a plethora of playmakers that Brady can sling the ball to.  Instead of having one stand-out star in the backfield, the Patriots depth chart consists of RBs Dion Lewis, James White, Mike Gillislee, and Rex Burkhead—all capable of gaining yards off hand-offs as well as catching passes—WRs Brandin Cooks, Chris Hogan and more.  Oh, they also have the match-up nightmare TE Rob Gronkowski.
Brady's short passes are efficient for one reason: blocks from the offensive line and receivers on the outside.  The Patriots' QB loves to throw screens and small check plays to his RBs to gain simple yards, or hope they breakout for extra yardage in open space.  If the Eagles four men on the defensive line—led by superstar Fletcher Cox—can disrupt Brady in the backfield or knock him down, the linebackers and defensive backs should be able to close-in on Brady's short passes and force him into deep throws where the athletic secondary has an opportunity to intercept his passes over the Patriots' short WRs.
My prediction is the Eagles hold a 7 to 10-point lead after the first half of the game.  Ultimately, the Patriots get the last laugh in the second half and hoist the Lombardi trophy.
Looking at last year's Super Bowl game, and this year's AFC championship game, you can clearly identify a trend.  Early in games, the Patriots face intense pass rush on Brady when he drops back, forcing him to put the ball in tight spots or throw deep down field.  But come the second half, the Patriots offensive line steps up.  They outwork their defensive opponents, and give their MVP QB all the time in the world.  The key for the game is to never let Brady feel comfortable.
Lusson's Super Bowl LII prediction:
If the Eagles are going to pull off this upset, they're going to have to establish a run game early. Nick Foles and the Eagles can't afford to get in a throwing contest with Tom Brady and the Patriots because that story only has one ending, and it's the Patriots coming out on top. Getting Jay Ajayi and LaGarrette Blount lots of touches will keep the Patriots defense honest and will make the game a whole lot easier for Foles.
I really want to pick the Eagles, but I just can't bring myself to do so. For me, it all boils down to the quarterback match-up and Brady is too good in these types of stages to bet against. I think the Eagles will be the better team out of the gate and will jump to an early lead, but I see Brady and the Patriots finding a way to win like they always do. Plus, I find it hard to believe that the pressure of the big stage and the Patriots defense will not get to Foles at some point in the game. I've got the Patriots winning by four in a back-and-forth Super Bowl LII.
Ten Facts you should know heading into Super Bowl LII: 
"I guarantee [you] we'll win the Super Bowl next year," Alshon Jeffery said. Following a 10-38 loss to the Minnesota Vikings in his final game as a Chicago Bear, Jeffery delivered this bold promise.  The football world was shocked, as they were under the impression that he was referring to the Bears turning around their fortunes after another losing season.  But then free agency crushed Chicago's hopes and dreams after he signed with the Eagles.  Jeffery clarified his statement saying, "I never said a team, though.  I never said a team."  Now participating as a star WR for the Philadelphia Eagles in Super Bowl LII, he'll see if his prediction comes true in Minneapolis, the city he made the seemingly crazy prediction in.
Super Bowl LII ticket prices range from $500 to as much as $2,500.
U.S. Bank Stadium in Minneapolis, MN seats 65,00 fans.
Despite what many think, Super Bowl half-time performers are NOT paid by the NFL or major Television networks. Sorry Justin Timberlake, it's not like you needed the money anyway.
Competing Super Bowl teams receive 35% of the game tickets. (Side note: Dear Jake Elliott, it would mean a lot to us if you graciously gifted us two tickets).
According to Nielsen, last year's game had an average viewership of 111.3 million people.
Tom Brady will be the oldest starting Quarter Back in Super Bowl history: 40 years young!
The chances of another "deflate-gate" scandal may be in question, give that over 70 footballs are used during the Big Game.
The Patriots enter Super Bowl LII for the 10th time in franchise history, a new NFL record.
If the Patriots win Super Bowl LII, it will be the ninth time that a team wins back-to-back Super Bowls. The Patriots are already on this list with victories in Super Bowl XXXVIII and XXXIX.
Crazy predictions for the Big Game:
Jake Elliott, LT alumnus, will kick five field goals for the Eagles in his first ever Super Bowl. The Eagles will string drives together, but won't be able to punch it into the end zone. That calls for a big game for Elliott, who has shown little to no signs of any nerves so far on the big stage in his rookie season. He may not kick a 61-yard game-winning field goal, but we're expecting him to make LT proud in Super Bowl LII.
On a sillier note, we're calling that Bill Belichick will smile at least once during the game. That's right, not after the Patriots win, but during the game. In all honesty, we'll be surprised if a Super Bowl victory makes him smile.  Two weeks ago, he gave away the AFC championship trophy seconds after it was handed to him. Will it be Brady picking apart the Eagles secondary? Will it be Foles throwing a goal line interception to Malcolm Butler? We don't know, but we just have a hunch. Our only hope is that NBC catches this once in a lifetime occurrence on camera and shares it with the world.
Super Bowl commercials:
One of the greatest parts of the Big Game is the infamously funny commercials during game breaks.  In 2017, the cost of a 30-second advertisement was $5 million.  Below we ranked our top three favorite commercials of all-time.  We hope you agree that these hilarious clips are worth every penny of the $5 million cost.
Super Bowl superlatives:
Philadelphia Eagles:
Jalen Mills CB #31:  Most likely to be a chia head model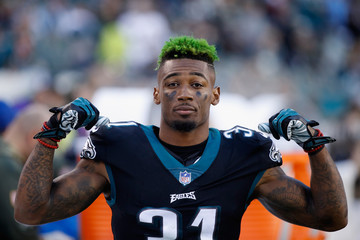 Ronald Darby CB #41:  Most likely to have a piece of hair ripped off mid-game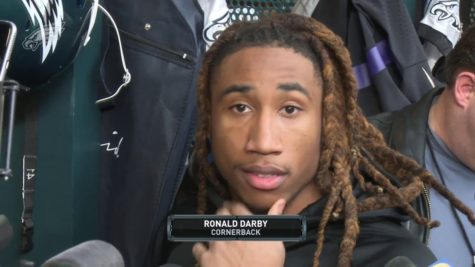 New England Patriots:
Rob Gronkowski TE #87:  Most likely to stay at a bar until 3 a.m. on Sunday and sleep through the game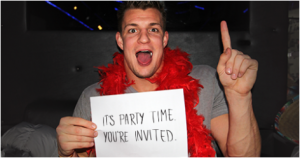 Bill Belichick Head Coach:  Most likely to wear knee-high white socks