LTHC skates towards state
Hang on for a minute...we're trying to find some more stories you might like.
The rivalry game against Hinsdale Central on Dec. 15 was more than just a typical game for the LT varsity hockey team. Many of the members of the LT team had grown up playing alongside the Hinsdale players. After losing a game earlier in the season against HC, emotions on the ice were running high. Ultimately after a close game, LT won five to four.
"My favorite thing has to be our team chemistry," varsity captain Joey Ales '18 said. "Everyone gets along, and there are always jokes being spit around."
The team started out the season strong, placing second in both the Gator Cup Tournament in West Dundee, Ill., and the Firestorm Big Bear Tournament in Indianapolis, Ind., Head Varsity Coach Sean Nicholson said. The season hit a rough patch in November when they lost five out of the seven games played, but the boys have regained their momentum since then and now have a record of 19 wins and 17 losses.
"We have molded together pretty well over the year, and everyone is committed to giving all it takes to win," varsity captain John Sommerfield '18 said.
This season the team is a mix of returning players from varsity and JV, as well as and players that are new to the club. Despite the new mix of players, one of the team's strengths is its chemistry on and off the ice. When competing, they dominate in penalty skills and depth of skill in all their players.
"It is definitely nice to have the balance between the kids from last year and the kids from this year to kind of lead them in the direction we are trying to take LT hockey," varsity Assistant Coach Ben Engle said. "The bond is really there."
Tryouts were held Aug. 29-31, and the season is year round, Jacob DelPiero '19 said. The team practices on Mondays, Tuesdays, and Wednesdays from 4:30 p.m. to 5:30 p.m.  Tuesday practices are off ice training. The team's goal is to get past the first round of state and to be ranked the top 20 rankings, ultimately getting to the state championship at the United Center.
Hockey is not an IHSA certified sport for various reasons, therefore the LTHC is not sponsored by LT, Nicholson said. There are benefits and drawbacks to not being an IHSA recognized sport.  A disadvantage is that the team gets less support from the student body because they are an independent club.
"[An] advantage is that I can make my own rules and the club can make their own rules," Nicholson said.  "We establish a culture within the people that we have running the program."
The team's next game is on Jan. 27 against Neuqua Valley at 7:55 p.m. at  All Seasons Ice Arena.

About the Writer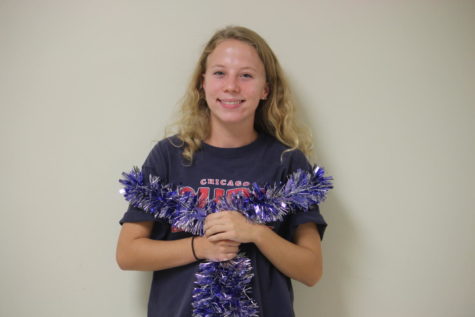 Mary Okkema, News co-editor
I think I know more about planet earth than you do GENIUS!

Twitter: @MaryOkkema