Soccer star plays in Europe
Aaron Onion '16 to play in England for rest of school year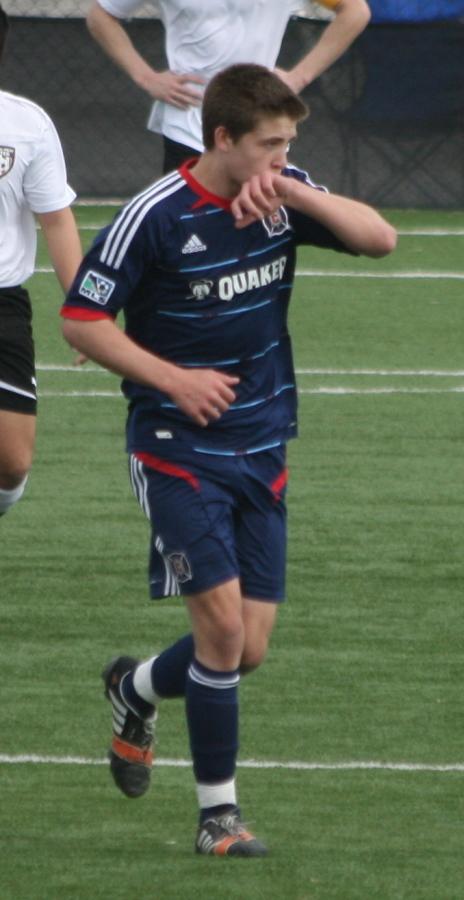 Bailey Blum, Assistant Sports Editor
September 16, 2014
Chicago. Newark. Amsterdam. Southampton. A taxi ride followed by an hour ferry trip to the Isle of Wight. And to top it all off, Aaron Onion '16 would be fulfilling his dream of playing soccer for an English youth club team, with the future possibility of signing a professional contract.
And this was just day one of Onion's six-month trip to Newport, England. Onion said when he checked his email in the summer of 2013, he never expected that a year from then he would be leaving home to play soccer in England, with the possibility of signing a professional contract.
Onion was given the opportunity by International Football Exchange (IFX) representatives who had seen him play. They set him up to join the youth team of A.F.C. Bournemouth, a soccer club based near Newport, England that plays in England's second-tier league, The Championship. If Onion does well, at the end of his six-month "tryout" he could be offered a contract to stay with the team longer, and possibly play for the professional reserve team.
"I'm really excited," Onion said. "It's the possibility of a lifetime. It's always been my goal to play professionally, and this would definitely help."
Despite his apparent eagerness, Onion said it hasn't been all fun and games. Onion will have to stay with a host family he has never met before. Additionally, he will have to assimilate into a new school and the different "soccer culture" he will face there, which unfortunately doesn't look highly on American players.
"The perception of American players is that we aren't as good," Onion said. "Hopefully I can go surprise a few people and play just as good as they can. Or better."
Another aspect of leaving that Onion had to face was saying goodbye to LT and all of his friends. In spite of his departure, he said his friends have been overwhelmingly supportive and have been motivating him even further to take this opportunity.
"I think he'll do great," Chicago Fire Youth Soccer Club teammate and LT student Trace Mortimer '16 said. "He's a very hard worker, and he's always wanted to do the best, to be the best at what he does. This will help him do that."
His friends weren't the only ones supporting Onion in his decision, though. Marc McElligott, a coach at his previous club team, the Chicago Fire Youth Soccer Club, was also extremely supportive of him, Onion said.
"Aaron spending time playing abroad is great for his development," McElligott said. "Being exposed to an environment immersed in soccer can only help make him a
better player."
While there, Onion will only attend school three days a week for only three hours a day in order to focus on soccer. His team practices every morning to train for upcoming games. Recently, Onion said the team has had specific focuses to get back into shape for the season.
"It's been a lot of running and core strength," Onion said. "We've also been doing technical drills and lots of scrimmages to get back into the swing of things."
Onion lost his first game away from the States on Sept. 10 against the Wycombe Wanderers, 5-2. Despite earning a starting position for his club, Onion has goals for the next game.
"We need to be more organized and finish our chances," Onion said.