LT alumna releases first single
LT alumna Josie Dunne woke up March 10 and checked her phone. Then, she started screaming.
"Kelly Clarkson tweeted out, 'loving @josiedunnemusic right now!'" Dunne said. "It was the first thing I woke up to and I screamed for 10 minutes straight. People that I've always looked up to will reach out to me now, and that's so crazy."
Dunne's last two years before graduating from LT in 2015 were spent traveling back and forth to her current home city, Nashville, Tennessee, where writing and performing her songs has become second nature for her.
"A lot of my success I owe to my parents and to my siblings," Dunne said. "I grew up in such a creative home and with such supportive parents, it was almost like I could do no wrong. I did outrageous things and pushed myself in music because they made me feel like I could do anything, so I owe a lot to them."
Dunne, who estimates she has written more than 200 songs since graduating, has experienced success recently in selling out her first show at Schubas in Chicago on Feb 8, co-writing Jacob Sartorius' recent single "Chapstick," and releasing her first single, "Old School," which is being played on Radio Disney, Von Maurs across the country and in LT's halls on WLTL. Much of her success she attributes to LT, Dunne said.
"In a lot of ways, LT and LaGrange in general have shaped me into the person that I am, and because of that shaped the music that I make," Dunne said. "I've had a really nice life growing up. I have an awesome family, support system and group of friends that fill me with such positivity and an optimistic outlook, I think that that translates in my music."
Dunne credits LT and music teachers John Musick and Steve Joyner, who has since left LT, with motivating her and providing her with chances to perform around the school.
"[Dunne] is one of the most free and talented creative thinkers I've ever taught," Musick said. "Her mind is constantly open and searching for the beautiful and cool things about life and music. She was always a natural on stage, but she grew as a guitar and keyboard player as well as a singer in her years here."
Dunne's new single "Old School" reflects on her parent's "classic LaGrange love story," Dunne said.
"It's an amazing story that I didn't realize was super rare until I left LaGrange," Dunne said. "I was like, 'Oh my gosh this is such a cool thing; my parents are so awesome and my community's so great,' so I wanted to retell that in the music video."
After pressing pause on college at Belmont University, Dunne has been living in Nashville for about two and a half years, and is enjoying planning out music videos, photoshoots and playing shows after months of writing.
"I am putting out another song really soon, so I hope that does just as well or better than 'Old School,' Dunne said. "I just hope that people will continue listening and liking what they hear."
Dunne's next shows are at Missouri State University opening for KYLE on April 18 and at Hotel Cafe in Los Angeles May 1.
About the Writer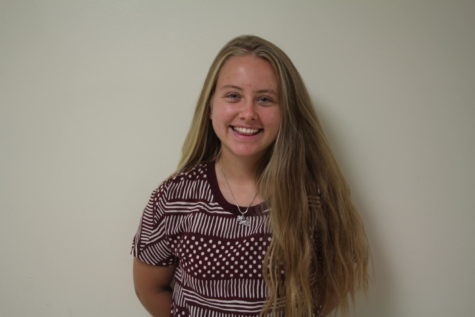 Georgia Dougherty, Pulse co-editor
Things I love include my bulldog Cow, chapstick, sneezing, saying the pledge of allegiance in Latin, and the Oxford comma. Things I don't love are vacuum...