"On My Block" Season 3 review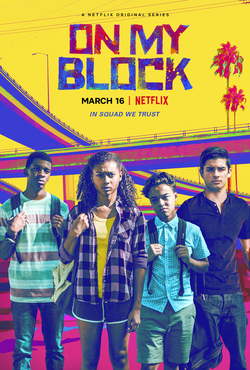 Like most people, I have been nestled up in my house for the past week, trying to figure out ways to make the time pass by. And what better way to pass a couple hours than to catch up on all the shows I watched. So, when the third season of Netflix's "On My Block" dropped on Monday, I decided that was my first show to catch up on.
I love this show. Ever since I started watching it two years ago, the characters had my heart. Don't get me wrong: the storyline of the show is very interesting and enjoyable to watch, but the characters of "On My Block" are the true selling point. The group, known as the Core four, consists of: Monse (Sierra Capri) as the tomboy leader, Cesar (Diego Tinoco) as the confused, newly-inducted gang member, Ruby (Jason Genao) as the sensible, smart mama's boy and Jamal (Brett Gray) as the adventurous, comic relief. While the group's personalities often clash resulting in arguments, it is evident to see that they all love one another. Also, the actors have phenomenal chemistry with one another, making it seem like the four are a genuine group of friends.
The show follows a vibrant, eccentric group of four teenagers growing up in the streets of inner city LA. As the group constantly faces a new challenge each season—with season three focusing on finding a former gang member—the teens are constantly growing and maturing.
Season three starts right where season two left off, which was confusing to watch unfold. While I knew what happened in the prior season, it has been a year since I tuned in, so I would've appreciated some type of recap or transition that helped with the flow.
In all honesty, season three's storyline felt way too slow in the first three episodes, and then rushed in the final two episodes. I was able to follow along, but I truly needed to concentrate on what was happening. Additionally, I wish that there were more character interactions outside of the serious plotline regarding the gang.  While I know it is a show that is rooted in a story about the streets, I love seeing the moments where the gang gets to be teenagers and not have to solve insane mysteries.
Another important thing to note in season three is the time jump in the final episode. I believe that this was done in order to make sure viewers tune in to the next season, and if that was the case, it worked. Season three in general ends on a bittersweet note, but the time jump made me so excited to see what was to come next for the group. While a fourth season hasn't been officially confirmed by Netflix yet, it is most likely going to be renewed especially after all the cliffhangers in the last five minutes.
Like the past two seasons, the relationship between Monse and Cesar is my favorite part. Maybe that's the romantic in me, but I adore this couple. While there is an aspect of purity and innocence, it is really interesting to see their relationship develop and become more real this season.
Also, by far one of the best parts of season three was the character development of Jasmine (Jessica Marie Garcia). Although Jasmine has been in the show since the first season, I always found her to be annoying and pretty pointless. But this season, she slowly became one of my favorites. While she still continues to be somewhat extra, I found myself liking her more as I got to know her.
Overall, season three of "On My Block" was solid. While it wasn't as captivating as the previous two seasons and felt pretty rushed in the end, the characters make it all the better. Season three has set me up with high expectations for season four, so I have high hopes. Too bad I have to wait until next March.