Miranda Lambert concert review
Miranda Lambert kickstarted the weekend early on Thursday Oct. 10. Her 'girl power' themed tour "Roadside Bars and Pink Guitars" stopped in Urbana-Champaign for a passionate and energetic concert.
Along with Lambert was country-pop star Maren Morris, young artist Tenille Townes and fellow members of her band Pistol Annies.
Headlining act Miranda Lambert took the stage, and the crowd went wild. Screams and cheers erupted as she started her set with her recently released song "Locomotive". She kept a more rock based energy for the first half of her set, before slowing it down with "Over You" which the crowd belted out alongside her. This more deep rooted emotional song set the mood for Lambert to be more open with her audience. Throughout the rest of her show, Lambert talked about the different reasons people came out to her show. She greatly emphasized the use of her music to help others heal from everyday battles and obstacles they face.
The venue, The State Farm Center, was decently packed for a Thursday night. Despite the majority of the crowd having work the next morning, everyone was highly energetic. Groups formed as different parties mingled and danced together. Every single person was moving during each song, whether swaying or jumping up and down and dancing. It felt as though everyone was unified under the music-a big jumble of people simply enjoying the beats and melodies. Stress was out of sight and out of mind for those couple hours.
Lambert broke her main set into two, when halfway through she brought Ashley Monroe and Angaleena Presley, the two other members of her band Pistol Annies. The trio laughed on stage as they belted out some of their country hits like their new song "Got My Name Changed Back" and ended their set with "Hell on Heels". Before Monroe and Presley left the stage for Lambert to finish her set, Lambert opened up about their families, children, pets, and marriages. Although a very popular artist, Lambert and country music in general provides a sense of transparency and connection to fans that other genres don't.
Lambert finished her set strong with barely any breaks jumping from "Gunpowder and Lead" straight into "Mama's Broken Heart". She once again reinforced the idea of healing with her slow emotional ballads "The House that Built Me" and "Tin Man". Immediately, the crowd had their lights up and were swaying from side to side. The emotion from her singing was easily reflected by the crowd singing it right back to her. Lambert ended her set with her high energy song "Little Red Wagon", leaving the concert on a high note.
The young, new artist Tenille Townes had kicked off the show with her high energy and encouraged the crowd to loosen up. She performed her own songs, as well as a cover to end her set, leaving the audience antsy for the next performer.
Maren Morris, who has recently gained a strong following, opened her set with one of my personal favorites, "Girl". I was convinced this was going to be one of her better sets. She followed with other chart topping songs such as "80's Mercedes", her collaboration with band Brothers Osborne "All My Favorite People", as well as her pop hit with artist Zedd "The Middle". Although I enjoyed all of those songs, they seemed sprinkled in a set mainly consisting of slow ballads. Frankly, I was disappointed in the number of slow love songs she picked to perform and was expecting more of her upbeat melodies, and even during her upbeat songs the high energy wasn't present.
Before the night ended Lambert was joined on stage by the rest of Pistol Annies, and openers Tenille Townes and Maren Morris, in which they all sang their new mellow collaboration "Fooled Around and Fell in Love". Closing the night out, the artists all grabbed hands and took their bows. An all woman tour is rarely heard of, especially in country music. Lambert is not only showcasing her music and giving an outlet for newer artists to gain exposure, but she is encouraging healing and women's empowerment; which I greatly admired. As a young woman who thoroughly enjoys music, Lambert's concert was not only fun and engaging but influential as well.
About the Writer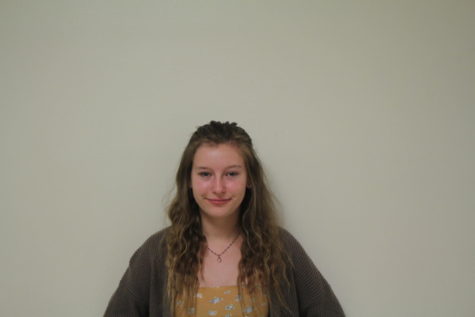 Kaitlyn Joyner, Business Manager
Just your everyday otter loving, phone addicted, sarcastic teenage girl. Alexa play Dynamite by Taio Cruz.