Recycling club hosts holiday lights drive
LT students collect old, broken Christmas lights from LT community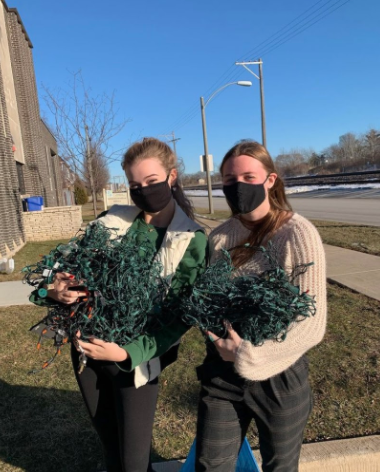 During one of their first meetings of the school year, Recycling Club had a brainstorming session via Zoom in which they arrived at the idea of hosting a holiday lights recycling drive. Due to the fact that Christmas lights cannot be recycled in an average recycling bin, the drive seemed like the perfect opportunity to get the LT community involved and educated on some of the basics of recycling, Recycling Club member Laura Klusendorf '21 said.
"Lights are enjoyed by all," Recycling Club advisor Thomas Swiontek said. "It seems wrong to make trash out of something that brings joy."
As with most recycling drives, there are many benefits to recycling old holiday lights rather than throwing them away in a landfill, Swiontek said. The once-broken and seemingly useless lights can be stripped for the raw commodities which can then be used for electronics or construction materials. Additionally, the lights are composed of mercury, plastic and glass, all of which need to be differentiated and sorted out prior to recycling. 
"At my house we didn't know how to recycle [holiday lights] properly, so in Recycling Club we try to bring up ideas that'll benefit us all," Klusendorf said. 
To spread the word about the holiday light drive, members of Recycling Club posted actively on their social media platforms, including Instagram, Facebook and Snapchat, Recycling Club member Joan Machaj '21 said. The drive started Jan. 4 and ended on Jan. 15. It was not only open to LT students and staff but also the surrounding community. Those who donated were able to drop their lights off at bins located at the entrances of both North and South Campus. The club was able to collect a car-full of donations. 
"I think we did a good job with spreading the word even though there is a pandemic," Recycling Club member Kate Coffman '21 said. "I think that's why we had such a great turnout."
The club has been planning events, such as drives, that are safe for others to participate in while following COVID-19 safety guidelines, Coffman said. The holiday lights drive was the first of many to come. 
"Our main message is that climate change is very much a problem, and it's not something that anyone can solve single handedly," Klusendorf said. "But small acts of recycling and putting less stuff into landfills makes it so that you're not adding to the problem as much anymore."