Contaminated recycling bins causing problems
Due to staff and students' failure to properly use classroom recycling bins by contaminating them with dirty products, the Waste Management facility issued a warning to the school asking students, staff and faculty to change their habits. 
"For as long as we have [recycled at LT], Mr. [Will] Meuer and I have struggled with keeping the recycling bins clean," recycling club co-sponsor Thomas Swiontek said. "One of the biggest challenges probably became when we [started to] commingle our recycling [at NC]. I believe some people may view the comingled recycling as trash."                                                                                                                                                                                  
Rather than exclusively using recycling bins to get rid of dry, clean products such as paper and plastic bottles, students are making the mistake of contaminating the bins with items that belong in the trash, such as food wrappers and tissues, Swiontek said. If the school continues to provide Waste Management with unacceptable recycling contents, LT will be required to pay a $120 fine for each weekly load collected.
"Waste Management informed us last year that they want [their recycling they collect] to be cleaner than it is because costs [to process recycling] are getting higher," Swiontek said. "We have been trying to do that here at school, but NC received a warning the week after Thanksgiving [that we will have to begin paying a fine]."
Members of recycling club including August Duwell '20 are working to encourage their peers to be careful about what they recycle and throw away, Duwell said. They encourage other aware students to correct their friends if they see them putting tissues or other unacceptable items into the recycling bins.
"I would say I'm angry [about this], but I think people don't know that what they're doing is causing a problem," Duwell said. "If enough people know [about what to avoid recycling] and this becomes common knowledge, I think that will solve a lot of problems."
What many might not realize is that this problem connects back to a recent development overseas. For years, America has relied on China to process and reuse the majority of our recycled goods. However, last year, China decided to restrict imports of many recyclables, Swiontek said. This has caused waste-management companies to become stricter with their policies.
"Waste-management companies across the country are telling towns, cities, and counties that there is no longer a market for their recycling," reporter for "The Atlantic" Alana Semuels wrote in her article. "These municipalities have two choices: pay much higher rates to get rid of recycling, or throw it all away."
Recycling club will continue to make an effort to educate staff and students about the issue in order to avoid costing the school money or having to give up recycling altogether, both Duwell and Swiontek said.
"I think the best thing to do would be to avoid putting something in the recycling if you're not sure it can be recycled," Duwell said. 
About the Writer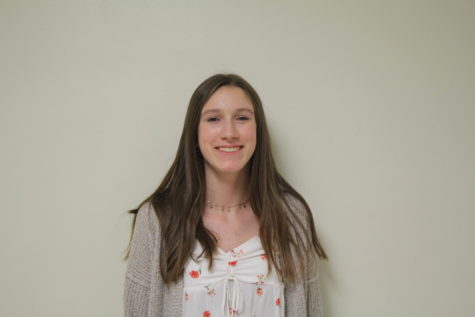 Lillie George, Reporter
The only reason I joined the Lion is so I could feel like Rory Gilmore.