Sarah Barcelona '19 returns to XC
After facing many obstacles, varsity runner Sarah Barcelona '19  has finally returned to LT cross country for her senior year. Before her junior year, Barcelona had two stress fractures that kept her from running. As well as missing a crucial year, her style of running changed dramatically, Barcelona said.
"It was a big set-back missing out on junior year," Barcelona said. "It was a good physical and mental break but I'm now ready to compete."
On Aug. 11, Barcelona placed fifth in the time trial competition to start off this year's season.
"I tried very hard during the race, and it felt much better to be back out with the team," Barcelona said.
Varsity girls coach Alex Lyons has noticed her become a better runner while on the team.
"Sarah is very race savvy, and is ready to work this season," Lyons said.
As a freshman, Barcelona established herself as a strong runner. Placing 18th, with a time of 16:58 at the state meet, she surprised herself, she said.
"If you told me that I would be at state that season I would have been shocked," Barcelona said. "It was really cool to be able to see a success that I wasn't expecting and to be surrounded by people that pushed me to be better all of the time."
After a traditional first two years of running, then major injuries, her training has changed, Barcelona said. She went from running seven days a week to four, as well as integrating heavy cross training.
"It was really hard for me to adjust to this schedule at first because I didn't really like the idea of cross training," Barcelona said. "However, I have found that it keeps me in shape and healthy, so I plan to stick with it."
Through her new training style, Barcelona has learned how to handle a tough recovery, Lyons said.
"She understands that improvement takes time," Lyons said. "She is now a better viewer of the big picture."
Lyons has also seen her grow as a leader for other team members, he said.
"She is a great athlete, and is a great leader to the younger girls," Lyons said. "Teammates look to her for advice and real-talk. She highly motivates them."
Another teammate of Barcelona, Nora Whelton '19, has seen her through her recovery, and is excited to watch Barcelona this season.
"Sarah is very diligent, she has a better appreciation for running after her injury," Whelton said.
Before cross country running, Barcelona was a competitive swimmer. Her friends wanted her to join them on the cross country team, she said.
"I started running in a track group and found that I enjoyed it more than swimming," Barcelona said. "So I decided to start running full time instead of swim."
Other than the physical part of cross country, mental aspects have also been a factor in running this year, Barcelona said.
"It's going to take some work getting back my confidence. I get super nervous before a race," Barcelona said. "I usually try not to think about it until a few days before. I can get anxiety prone if I think about a race a lot."
As the current season pushes on, Barcelona has a new way of thinking about future races.
"I have no expectations," she said. " Once the races begin, I will know to prepare better for each one."
About the Writer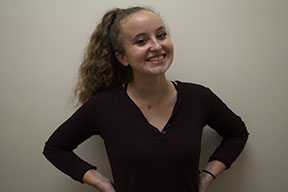 Isabella Sorice, Social Media/Photo Editor
"I don't have time to write a staff bio"