LTMUN sees success at University of Michigan
Greg Smith, Assistant Opinions Editor
January 22, 2018
LT's Model United Nations club saw success at the MUNUM conference at the University of Michigan during the weekend of Jan. 11-14. Despite having not competed in the conference before, which had different parliamentary procedure to which LT's delegates were accustomed, 12 of the 20 students attending placed in the top three in their committees, with one student receiving best delegate.
This conference's committee sizes were different, club sponsor Andrew Johannes said, but the students adapted well to succeed.
Xander Allison '19, received best delegate representing India in SECPOL, a body of the UN that handles matters that do not fall into the jurisdiction of other bodies, he said. At this conference, the committee discussed the privatization of space and the issue of Kurdistan.
"My opinion of MUN is that it's much more important to adapt to the situation and power structure in the room rather than to know your country's position like the back of your hand," Allison said of his strategy.
On the matter of privatization of space, India is a proponent of allowing private companies to develop in the industry, so that was the stance which Allison proposed on the issue.
Since it was the second issue discussed, Kurdistan took a backseat to the privatization of space. Allison faced a challenge, since India's position had, in reality, been very anti-Kurdistan, he said. He mainly focused on passing a resolution that would be easy for different sides to agree upon.
Topher Fryzel '19 represented Edgar Sengier in a joint crisis committee on the Congo Crisis of the early 1960's. Sengier had been a businessman in Congo's booming mining industry, which centers on uranium, cobalt and copper, who supplied the United States with uranium for the Manhattan Project, Fryzel said.
In the committee, Sengier had been on the side of the seceding southern province, where most of the mining industry was centered, Fryzel said. The mining industry was crucially important to the Congo's economy; while under Belgian control, 95% of what Belgium earned from the colony was from mining duties. In reality, the seceding region had been brought back into line with the rest of the country, but at the conference, Fryzel and his allies were able to use a defensive war and foreign support to win independence, he said.
Overall, the conference was a success, Johannes said. Students worked to prepare over Christmas break, since the conference took place early in the year.
"I'm really proud of our kids because they worked really hard to prepare for this," Johannes said.
About the Writer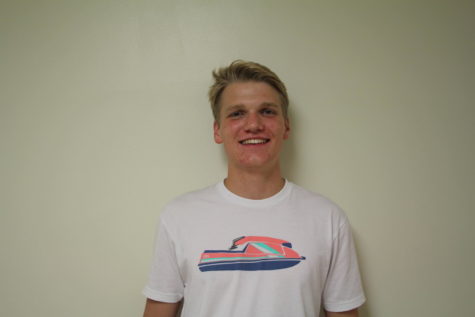 Greg Smith, Managing editor
There's no such thing as a free lunch.