Ogden Avenue school holds fundraiser, creates sense of community amongst vendors
Over the last 38 years, Rose Szymanski has been spending her time hand crafting polymer clay ornaments for craft fairs and, every month of November, for the annual Red Sled event at Ogden Avenue School.
"I've was a part of the Red Sled event at the very beginning, and I've done it ever since," Szymanski said. "I thought because I was stopping doing craft shows, it was only fitting to end at the same place I started."
The Red Sled event took place on Nov. 11 from 9 a.m. to 3 p.m., with numerous craft tables, a room for pictures with Santa and "Candy Cane Lane", which contained activities for the children to enjoy, put together by the Parent Teacher Council (PTC), Principal Joe McCauley said.
"Our PTC does a great job of organizing and carrying out an event," McCauley said. "There's a lot of work behind the scenes."
Along with the PTC, many students got involved this year, helping to put together decorations for the whole school.
"This year, we have at least one student group that will set up a vendor table with all their proceeds going to a local animal shelter," McCauley said.
Numerous items were sold, ranging from headbands, T-shirts, ornaments, to photographs.
"Because this is in my neighborhood, it gives me a chance to see and meet people from around my neighborhood, who I wouldn't normally see at an art show," local artist Brian Horan said.
Children had the opportunity to go out and participate in a raffle, putting in tickets for their chance to win numerous prizes at the Red Sled event this year, with money going to the aid for teachers and instruction. Along with that, Ogden has found a new focus, McCauley said.
"Ogden has made it a goal this year to focus on diversity and the recognition of all cultures and individual differences," McCauley said. "You'll see classroom decorations that recognize all the winter holidays. Also, the student vendors doing grass roots fundraising for local charities is a direct result of our personalized learning time and the idea of giving back that is central to our focus as a school this year."
For Szymanski, events like these are very dear to her heart.
"I like it because I see so many people I never see," she said. "It's almost like a fun time for me. Not only am I selling the ornaments, but I'm socializing at the same time, and it provides people with a sense of community you don't find in other places. Many of these objects sold are one of a kind, and you're getting them handmade, instead of the factory produced."
About the Writer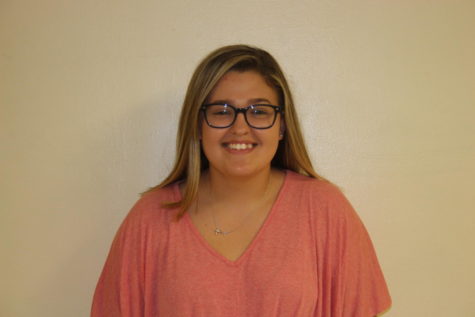 Christina Rossetti, Photo Editor