Tennis takes on state

Entering sectionals with both a singles and doubles team seeded, boys tennis has set themselves up for a successful run in the state tournament. Following the May 19 sectional at Proviso West, Jack Bernstein '17 advanced in singles and the pairing of Tanner Burke '17 and Demetri Triantafel '18 advanced in doubles to the state meet at Buffalo Grove on May 25.
"[The collective team is] most excited for proving ourselves on the top stage at state," Burke said. "LT tennis usually floats in the top 10 at state, but we want to show we belong in the elite group."
Furthering the rivalry, LT fell second to Hinsdale Central at the sectional meet and in conference overall, varsity head coach Bill Wham said. However, Lyons did win the conference meet on May 12 and 13 at Glenbard West. Compared to previous years, the sectional they were placed in was more difficult which led to two of the four teams not placing high enough to qualify for the state meet, Bernstein said. Central finished the meet with 24 points and LT came in with 14.
"Hinsdale is in our sectional and they're always tough," Bernstein said. "They're not as good this year as they have been in past years so we should fair pretty well against them."
The four teams who first made it to sectionals included Max O'Malley '19 and Bernstein for singles as well as the pairings of Patrick Caruso '17/Luke Schlender '19 and Burke/Triantafel for doubles. The top four finishers in both singles and doubles advance on to state. Bernstein placed second overall and Burke/Triantafel finished fourth.
"[Having only two entrants at the final meet] will make the state tournament very difficult from a team perspective," Wham said. "[My personal goal] is to have significant results in both singles and doubles and [we have a] team goal of 20 points or better."
Bernstein qualified for state by easily making it through the first two rounds of sectionals winning in straight sets 6-0, 6-0 over boys from Downers Grove North and York. In the semifinals he beat Lawrence Hiquiana '17 from Downers Grove South 6-0. 6-3, but fell to Zach Elliott '18 of Hinsdale Central 6-3, 7-5 in the finals. As for Burke/Triantafel, they lost in the semifinals 6-3, 6-0 to Trevor Hamilton '18 and Andrew Buhelos '18, also from Hinsdale Central.
"The biggest challenge [at state] will be the mental grind of playing tons of matches in a row," Burke said. "[Especially] with the expectation of winning them all. The goal for state is another top-10 finish, which will be difficult with only two qualifiers, but we're both capable of beating anybody."
As of the LION print deadline, no bracket or seeding for the singles or doubles state meet had been released.
About the Writer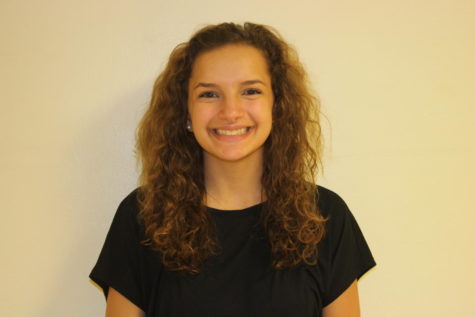 Mikaela Larson, Sports Editor
My name is Mikaela Larson and my passions include The Office, dogs, feminism, and of course: sports. Along with LION, I am the Marketing Director at WLTL...