Tennis works to bring late season success
Whether it is winning big matches in weekend invitationals or competing well against a tough schedule, this year's girls varsity tennis team is working to continue their success through the end of the season, head varsity coach Dave Robare said.
Seniors leaders, particularly McKenna Sands '20 and Greta Frehner '20, have had a major influence on the success and chemistry of the young team that keeps five underclassmen in its conference lineup.
"Our team is doing amazing this year, singles and doubles," Sands said. "I know there's big things in store for us as LT tennis. We are just trying our best to put LT's name up on the list of big tennis schools."
This year's varsity is fluid with Junior Varsity 1 to give as many players as possible a chance at the varsity level, Sands said. There are 18 girls who are rostered on this varsity team.
There are only 11 available varsity spots at each conference game: three singles and four doubles, and players usually do not find out who will be playing in each game until the day before because of the level of competition within the team, Adora Ezike '21 said.
"There [are] just a lot of good players this year," Ezike said. "A lot of our teams have beat Hinsdale [Central], which usually never happens. We all can work together to get it done."
At the Naperville North Invitational, held on Oct. 5, the team competed against eight other schools in LT's conference and sectionals, and every team finished in the top four. Mela Zimkus '22 finished first at No.2 singles, and Mary Callaghan '22 and Annie Murphy '20 finished first at No.3 doubles.
"We rely on each other when problems come up, and it has made us so much closer," Callaghan said. "We get along really well. Even when we have those rough weeks, we are able to come to each other to fix the issues."
Team meetings led by the players are used for the team to resolve problems on their own, Callaghan said. Team chemistry is a major priority for the group. Being the loudest team with the most spirit was a goal set early into the season, Sands said.
"We try to emphasize our participation cheering on our team mates," Sands said. "It always positively impacts our [results] when we do."
Senior leaders have been able to work with players of all levels, Robare said. This bond has been very beneficial for the group. The team has worked to create new traditions and activities to increase bonding. Players listen to 6ix9ine's "FEFE" on the bus to every game, make TikToks together, and take post-game "dub pictures."
"Our coach wants to pump up the intensity and keep us close," Sands said. "He started getting us smiley face cookies every time one of us pegs a girl with one of our shots during a match. It is so fun and we have had really good results from this."
About the Writer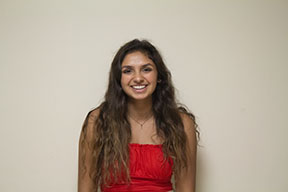 Lizzie Patel, Reporter
I'm straight up not having a good time