LT experiences shortage of substitutes
School compensates for low numbers, searches for solutions
Due to the unusual circumstances of COVID-19, along with a general shortage of substitute teachers in Illinois, LT has seen a decrease in available substitute teachers this school year.
"It's difficult because [the amount of available subs is] a constantly changing thing," Director of Human Resources Edward Piotrowski said. "There are lots of reasons why a person could be excluded from coming to the building and that goes for subs too. On a daily basis, the number of people that are available to sub varies."
During a typical year, LT would have around 90 to 100 active subs on the roster, Piotrowski said. Currently, the school has 80 active subs. To compensate for the days with particularly low numbers of available subs, various staff members have stepped in as substitute teachers, including principal Brian Waterman, administrators, teachers and paraeducators.
"This year it's unique because everyone has the same goal of providing as consistent an environment as we can for students," Piotrowski said. "Paraeducators, security guards and office workers have all asked what [they can] do to help. It takes every employee of the school district to figure out what we can do to meet the needs of the students."
Administrative Assistant Melinda Edwards, responsible for making sure that all absent teachers have subs to cover for them, has faced challenges coordinating with a constantly varying, smaller pool of certified substitute teachers, she said.
"Our subs are great people," Edwards said. "We have [people] from many different backgrounds that help us do the subbing. We have done many things, [including] developing a way to assign subs at only one campus for the day. This helps by not needing them to travel between buildings. I have constantly been calling subs to find out who is able to work and what their availability [looks like]."
Because of the pandemic, there are many workers who have lost their jobs, especially in service-oriented industries, Piotrwoski said. Some of the people who once held those jobs are now looking to sub; therefore, LT continually receives new sub applicants. However, there is still a statewide shortage of substitute teachers that, even after the pandemic, will need to be addressed.
"I think we'll still have the same issue of a sub shortage across the state after the pandemic, and that's something that schools were trying to combat before the pandemic, and it will continue to be," Piotrowski siad. "The state has actually changed requirements to be a substitute teacher because they're trying to get as many people in as possible."
In order to ensure a continuous supply of available subs and encourage more people to work at LT in the future, the school has focused on simplifying and improving the substitution process as much as possible, Piotrowski said. The hourly rate for subs has also increased to $25 per hour for those working during the hybrid model.
"[We are working on] two things: continually bringing people on board and trying to create as quick of a turnover as possible," Piotrowski said. "When we know that people are going to be out, it's important to plan for those ahead of time. 
As COVID-19 vaccinations become more widely available, Piotrowski and Edwards are hopeful that they will start seeing more and more subs come back to work.
About the Writer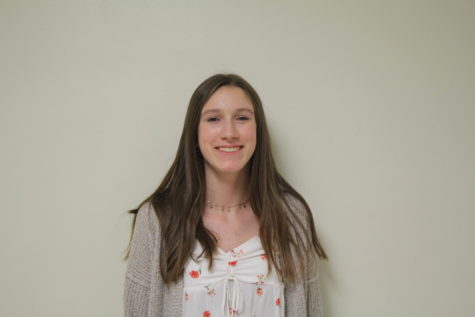 Lillie George, Reporter
The only reason I joined the Lion is so I could feel like Rory Gilmore.