Senior prepares to self-publish original novel
In sixth grade, Abby Odelson '21 sat down and began to write. Under the pen name of Weslyn Amory, she found a new undertaking and was determined to follow through. Six years later, she prepares to publish her nearly-complete, 450-page novel titled "Into the Darkness."
"My friends and I were originally writing fanfiction for the 'Avengers,' and I began to realize that writing was a nice way to spend my time, and it wasn't stressful," Odelson said. "That developed into me realizing I like to world-build and create everything for myself, so I decided to try and write something of my own."
Over the course of that moment up until now, Odelson has been hard at working writing, re-writing, editing and researching ways to publish her novel, she said. She recently discovered Amazon's self-publishing feature and has turned to this method as a cheap, easy alternative.
"Before, I was trying to find editors and publishers, but it was super expensive and often a scam," Odelson said. "I didn't know about self-publishing until I connected with another author who used Amazon." 
Over the years, "Into the Darkness" has evolved, both as Odelson has changed and as she has received feedback from her sister Lucy Odelson '23, Odelson said. 
"I've been pretty minimally involved with the process since [Abby's] the one who wrote all of it, but I do edit most of her drafts and give her suggestions on how she could make the plot better," Lucy said. "I also helped her to rework the second half of the first book and the rest of the series and gave it a new direction."
The story has evolved into a plot that revolves around a group of four teenagers, one of whom possesses superhuman abilities, Odelson said. She hopes to eventually complete and publish "Into the Darkness" as a three-part series and work on other literary projects simultaneously.
"I think that Abby was initially inspired to begin writing stories of her own after reading well-written books by authors like Sarah J. Maas and J. R. R. Tolkien," Lucy said. "I definitely think that their books about fantasy and magic with really developed characters who readers can relate to influence some of the ideas behind "Into the Darkness" and what she wanted it to look like."
Developing an idea into a full-length novel, though a rewarding experience for Odelson, has been no easy task, she said. Her sister has seen the challenges Odelson has faced in creating multiple drafts, complex characters and intertwining plots.
"[I've learned to have] a lot of persistence, especially since it's been six years," Odelson said. "I've gotten very good at waiting. I've changed the story so many times because I get sick of reading it and feel like I need to change it even if it's good already. That's what has made [this process] so long."
Odelson hopes to hit the publish button by the end of October or early November. Until then, keep a lookout on Amazon for "Into the Darkness" by Weslyn Amory.
About the Writer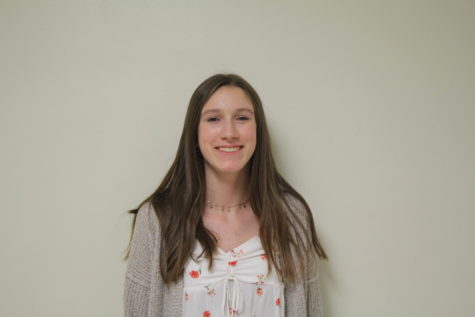 Lillie George, Reporter
The only reason I joined the Lion is so I could feel like Rory Gilmore.