Senior serves as student representative to the Board of Education
Every month, elected school board members and administrators attend meetings to discuss topics such as school policies and the budget. Among them is Sophie Grabis '20, who is the current student representative to the Board of Education.
Grabis has always been interested in student government but never had the opportunity to pursue it due to her commitment to soccer, she said. However, last spring she decided to pursue this long-time interest and applied on the school website. No prior experience in student government was necessary for this position.
Since becoming the student representative to the board, Grabis has attended three meetings: one on the first day of school, another on Sept. 16 and her most recent on Oct. 21.
"I love it so far," Grabis said. "I think it's really cool. I like that I have two different leadership roles. I'm leading the students, but I'm also kind of a leader in the Board of Education in which I interact with the administrators. It's interesting because I have to change my leadership skills in order to fit my demographic better."
As student representative to the board, Grabis has many responsibilities. She must attend all board meetings and meet with superintendent Dr. Timothy Kilrea before the meeting to discuss the agenda and points of her report.
The presentation of her report is an item on every board meeting's agenda, Kilrea said. At the September meeting, Grabis detailed the successes of various sports teams, the upcoming theater show, and the overall atmosphere of the students as they adjusted to the school year.
"Having a student representative to the board] is a consistent reminder as to why we are here," Kilrea said. "We base our decisions on doing what's best for kids and to have a student at the Board table supports this philosophy."
Grabis also acts as an intermediary between the board and students. During this school year, she hopes to create a survey to get honest student feedback on the board's activities. The survey would ideally be accessible by logging onto an LT computer, she said.
In the future, Grabis hopes to pursue a career in law, she said.
"I feel like just being able to speak and have a professional voice and learning how to communicate with superiors would definitely help me in law school or a pre-law program," Grabis said.
Grabis' term as student representative lasts through the school year. The next board meeting is on Nov. 18.
"I think one of the most important qualities of these positions is hunger or desire to do the position and having an interest in acting as an advocate and representative for so many students," principal Dr. Brian Waterman said. "So far [Sophie] is living that out."
Applications for next year's student representative should be available in late March, Waterman said. Only current juniors can apply. 
About the Writer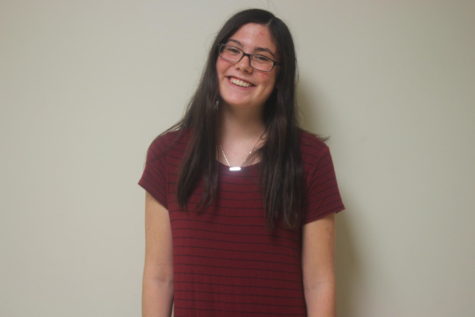 Claire Williams, Copy Editor
Can it please be leaf catching season already?