LTMUN places high in conferences
At the awards ceremony at one of the first Model United Nations conferences of the year, MUN SC advisory board leader Collette Doyle '21 sat eagerly awaiting both her personal placement and LT's overall placement.
"I remember just feeling extremely nervous," Doyle said. "They announce winners in reverse order, so each name called off which wasn't me made it more and more suspenseful. When they called me for first place, I was amazed because it was my first time."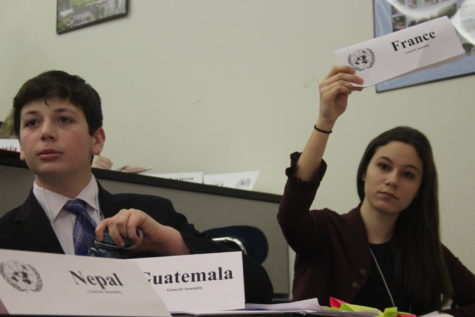 Doyle was one of the many students who placed high in their committees at the day long conference at Carl Sandburg High School on Saturday, Oct. 6, 2018.
Every student who placed at all in the conference, including second and third, added to LT's total score in the end, Doyle said. Schools' scores are compiled and added together after every individual winner is announced. Overall, Lyons Township's score was exceptionally high, which placed them in second–and only one point behind Glenbrook South.
"This was a huge deal for us and we earned much pride for our school that day," Doyle said. "It was the best LT has placed in a while–years actually."
This conference was a major turning point for the Lyons Township Model United Nations (LTMUN) team. Last year, they did not do as well as they had hoped, so earning second in an early conference boosted confidence greatly, LTMUN secretariat member Lauren Crawford '19 said.
"We didn't perform well last season so it was very discouraging," Crawford said. "Placing second in one of our first conferences back reminded us why we are nationally ranked and shot up our confidence a ton."
The reason why the LTMUN students are doing so well this year is that they are able to learn from their mistakes from last year, LTMUN main advisor Andrew Johannes said. They researched and practiced their writing and speaking for days in preparation for their conferences.
"Seeing how dynamic the students are is incredible," Johannes said. "Their preparation was outstanding. They knew their opponents very well, and they were using much more strategy than they were before."
The LTMUN students carried those newly enhanced skills with them to their first overnight conference at Washington University from Oct. 12-14, 2018. They placed third there because of how well they adapted their new abilities during the previous Carl Sandburg conference, like knowing their opponents better, which they used to their advantage, Crawford said.
"Not only did we develop our skills much more throughout the conference at CSHS, but it also gave us a ton of more confidence in ourselves which helped us with the most important aspect of a competition–mental preparation, which was highly needed for our first overnight conference," Crawford said.