Family hosts parties for charity
Hang on for a minute...we're trying to find some more stories you might like.
While walking past the corner of Cossitt and Spring Avenue in La Grange, one might notice the giant white tent set up in the Mary Carroll Dougherty's front yard with a sign on the fence promoting a princess party fundraiser. Although Dougherty's princess parties are filled with sparkles and glitter, there is a lot more magic to them than meets the eye.
The parties are held on Saturdays for an hour, and a suggested donation of $20 per princess. All proceeds go to Lurie Children's Hospital. Dougherty and her family decided to start fundraising when Kate Palermo '17, a family friend who was diagnosed with B-cell acute lymphoblastic leukemia, relapsed for the third time.
"We all love Kate and the Palermos, and what they are going through is just awful," Dougherty said. "At some point, you just don't know what you can do for people. They are fighting this battle, and we can't come up with a cure, so this is what can we do."
The parties began in August. In total there have been seven parties, and Dougherty hopes to keep having them throughout the winter. The Doughertys have raised around $2,000.
"We appreciate [the community support] a lot and it means so much to us," Joan Vander Linde, Palermo's mother, said. "It helps us feel less alone in our fight."
Dougherty's daughters —Katie '14, Tessa '16, Georgia '19 and Annabel '22— star as the main princesses, Mary Carroll Dougherty said. The parties consist of making crafts that follow the theme of the lead princess and eating cupcakes that the princesses made. The children are encouraged to wear their own princess dresses and tiaras. The princesses then go up onto the porch and teach the children a special dance. The party ends with Tessa, a theatre major who plays the main princess, teaching the children how to "act like a princess."
"We say that princesses are kind and caring and can do good in the world," Mary Carroll Dougherty said. "All these children are doing good by donating to help somebody else. It's not about just being pretty; it's about doing good in the world."
Dougherty hopes to eventually have a big ball where children from all over the area can come with their parents and make a bigger impact. She also plans on bringing the princesses to the hospital to surprise the patients. For now, she will continue with the local parties.
Despite the parties only happening for the past few month, the message has already spread. People from outside communities have been coming to join in on the fun, Mary Carroll Dougherty said. The prop store where she buys the costumes has even offered to donate a few props as the parties continue to grow. Her hairstylist and a few others have also offered to volunteer their time to do the children's hair. Many volunteers have been personally impacted by Lurie's mission.
"So many people are touched by Lurie's helping them," Mary Carroll Dougherty said. "Everyone has a story, and wants to help out. It's a nice feeling."
The date of the next pop up princess party has yet to be determined. For more information, check out PrincessPartiesbyMC on Facebook.
These princess parties have brought fun and entertainment to the community, which is a stark contrast to the responsibility that Palermo gained from her health issues.
"Having cancer has caused Kate to grow up really fast which makes it hard to relate to kids her own age," Vander Linde said. "She has had to miss lots of school and fun activities. She will always struggle with health issues from all the chemotherapy and radiation she has received. In the long run it has made our family closer and more appreciative of each other."
To help support Palermo during her fight send funny cards of support to Kate c/o Kate Palermo, 1140 W Wells St. Apt 1601, Chicago, IL 60610.

About the Writer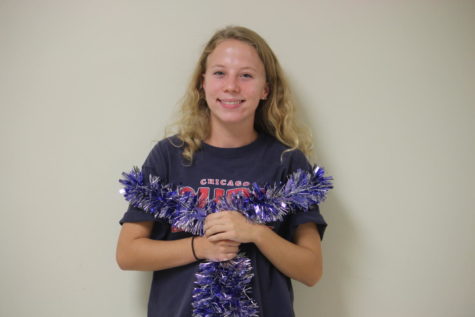 Mary Okkema, News co-editor
I think I know more about planet earth than you do GENIUS!

Twitter: @MaryOkkema