Wrestling works toward state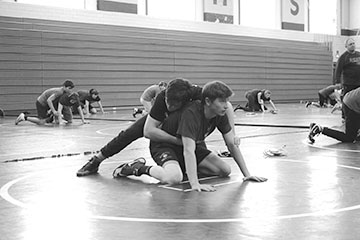 Under the spotlight cast in Vaughan Gym every dual point counted when LT wrestling faced Hinsdale Central High School on Dec. 13. The stress and drama added even more excitement to the air. After a pin in an upset that cost LT 6 dual points, it was up to the entire team to put in a collective effort to beat their rival.
It came down to the last heavyweight match, and if Central had pinned LT instead of LT pinning Hinsdale, it would have been all over for the team. In the neck and neck match, LT emerged with a 42-30 victory, making for one of the most memorable moments of the season, captain Andrew Schodrof '20 said.
"Beating Hinsdale [Central High School] was crazy," captain Griffin King '20 said. "Beating anyone in the conference is fun, but Central was a great win."
This season has been about getting better every day, head varsity coach Griffin Powell said. On Saturday, Jan. 18, LT varsity wrestling became the third team in Illinois to post 1,000 wins as a program. Wrestling may not be the sport that everyone comes out to watch, but these guys work every day for the major accomplishments they have made this year.
"Every day we come in with something we are trying to accomplish," Powell said. "The biggest thing that we say each day is that no matter what we are doing we are trying to compete in whatever drill it is and trying to get the most out of yourself every time you step into the practice room. They are putting a lot into it to get these results, and I don't think [that] it is always recognized."
Upperclassman leadership has played a huge role in the success and morale of the team, Powell said. The captains and seniors in general lead the entire program.
"This senior class, in particular,  has done an outstanding job being people that all levels can look up to," Powell said. "They are leading by example, inside the gym, outside the gym. I can't say enough about how hard they have worked and how good their leadership is. I am expecting all the upperclassmen to get a lot out of the end of the season."
For the entire team to advance to state, the LT wrestling team needs to win its team regional on Saturday, Feb. 8. to advance to sectionals the following weekend.
"We have one of, if not the, toughest regional in the state," Powell said. "As a team we will be right in the mix. Oak Park-River Forest High School may be ranked higher on paper, but we will be right there with them."
Individuals can also qualify for state, in a series that concludes on Feb. 22. LT has multiple guys who have a good chance at qualifying, Powell said. At this point in the season, it is hard to tell who will qualify because of how close the weight classes have become. LT has a few wrestlers in the state rankings–top 15 or 20 for their weight class–depending on the site for this information.
"Regionals really is going to be more of an individual tournament," captain Jack Villareal '21 said. "I am obviously hoping to move on to sectionals and get to state, depending on the draw. I think there is a lot of other wrestlers on our team that will be able to move on."
The team practices every day after school for two hours and has morning lifts twice a week, Schodrof said. The wrestlers also work out on their own and have team runs on Sunday nights. The team acknowledges that although it is not fun, the long hours are rewarding.
"We hang out on Saturdays," Villareal said. "We run on Sundays. This season we have bonded so much. These guys are my family."