AOTM: Hailey Markworth '22
Sophomore year has been action-packed for Hailey Markworth '22. Starting the school year as a libero and defensive specialist (DS) for the girls varsity volleyball team, Markworth transitioned to the point and shooting guard position on the varsity basketball team. She has been putting in time and work on both courts.
"I have been playing basketball and volleyball for as long as I can remember," Markworth said. "I grew up playing both sports because my mom played volleyball in college, and my dad played basketball in college."
Markworth has been involved with both LT volleyball and basketball since she was a freshman, but this year she began playing for both programs' varsity teams. As a sophomore, Markworth is one of the youngest members of each team, which comes with challenges, she said.
"Being an underclassmen varsity athlete brings a lot of pressure, but also a lot of space for mistakes," Markworth said. "You also need a lot of confidence because you need the mindset where you are not considering yourself a sophomore, you are just another player like the others."
From a young age, Markworth was involved with both volleyball and basketball, she said. Although she began playing volleyball for Lions Jrs., she also began playing basketball in fourth grade for the Franchise basketball club. Currently, Markworth plays volleyball for Synergy volleyball club and basketball for Lady Lightning's travel team.
Last season, Markworth played on the sophomore team as a freshman. On that team, she proved herself to be a strong basketball player and began to stand out, head varsity coach Megan Hutchens said.
"[Markworth] was a big part of their success," Hutchens said. "She was an offensive threat and a sound defender. [She] has made it a focus in the offseason to work on her shot from all types of situations as well as her ball handling skills."
Despite being one of the youngest members on the team, Markworth brings great consistency and competitiveness to the starting line-up, Hutchens said.
"[Markworth] is a talented guard that is extremely athletic and versatile at both ends of the court."

-Coach Hutchens
"[Markworth] is a talented guard that is extremely athletic and versatile at both ends of the court," Hutchens said. "She always implements a team-first mindset in everything she does, but has the capability to take over games with her scoring ability."
Markworth is recognized as talented in every part of the game by teammates as well. From defense to shooting, Markworth is a capable player, teammate Lindsay Hahn '21 said.
"I think [Markworth] is different from other players because you don't know what she is gonna do," Hahn said. "She's a very diverse player, which is hard for any player to defend."
As the season progresses, Markwoth maintains her own personal goals, as well as the team's goals of a good run in playoffs, she said. Markworth also has long term goals regarding her basketball career at LT.
"My goal for this season is to get far in the playoffs," Markworth said. "My goal for the rest of my career at LT is just overall keep improving and get good grades. I know I have more time to get better and learn."
Aside from being a talented player with athletic ability, Markworth is acknowledged as a good teammate, Hutchens said.
"We love having Hailey on the team," Hutchens said. "She gets along with everyone and provides many laughs with her infectious personality."
In addition to her coaches, Markworth's teammates also take note of her athleticism and team spirit, Hahn said.
"[Markworth] is a great teammate and friend on and off the court," Hahn said. "She's encouraging, funny, and always knows how to put people in a good mood. She always hypes the team up. She's never negative either."
Markworth and the girl's varsity basketball team will be playing next on Feb. 7 at Schaumburg High School.
About the Writer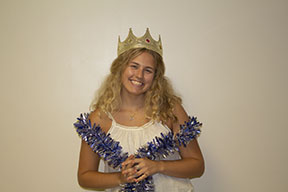 Liz Gremer, Co-Art Director
If I could run across the beach into my own arms, I would.