Hockey team perseveres through tough year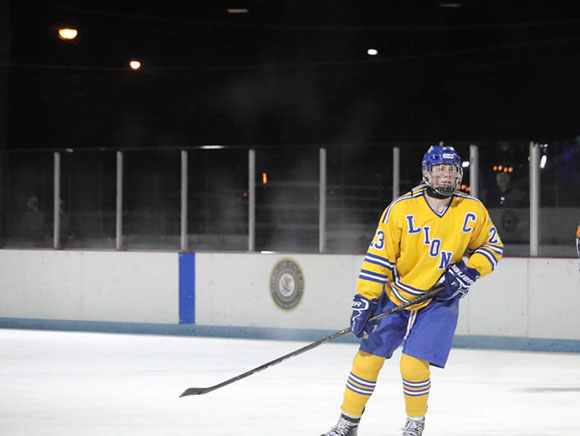 The Lyons Township Hockey Club played a rare outdoor game at the Bobby Hull Community Ice Rink in Cicero on Dec. 13 to benefit the American Red Cross. In this unusual setting, LT's varsity team fell to Hinsdale Central 7-1, but despite the tough loss, Joey Coglianese '21 still enjoyed the overall experience.
"It's awesome," Coglianese said. "You feel exactly like you are on the pond [under] the sky with the eye black on – it's crazy."
Like the outdoor game, the season has been quite a roller coaster ride, varsity head coach Benjamin Engle said, but with the season more than halfway over, the team is still looking to compete and close out the season on a high note.
"There's going to be lots of ups and downs," Engle said. "But ideally, we want to be able to finish strong, make a good run in conference play and you never know what could happen from that."
One of the "ups" from this season was winning a tournament held in St. Louis prior to the Thanksgiving break, Engle said. It was LT's first tournament win in Engle's five-year tenure as head coach.
"It was good to see the boys come together," he said. "We've played in plenty of championship games, but have never been able to pull it off and we finally did this year, which was really cool."
Coglianese also has fond memories of the trip to St. Louis, in which the team was undefeated over three games of tournament play, he said.
"It was definitely a big point in the year for us," he said. "There were definitely a lot of fun moments during that trip."
The graduating senior class is the biggest Engle has had in his time coaching the hockey team, he said. Aidan Sheehan '20 is one of those seniors and the captain of the varsity team. Despite having a bigger role on the team, Sheehan recognizes both his responsibility and those of the players around him.
"I was captain of junior varsity sophomore year," Sheehan said. "[Being captain] felt like a nice fit, but you can't play without a whole team."
It's these lessons that Engle has been preaching to his players for the last few seasons. He has prioritized treating each other like family, rather than just other people they play a sport with, he said. The ideas of "brotherhood" and "camaraderie" are things he wants to instill in the entire team.
"We're a group of individuals that come together to play a team sport," Engle said. "That's something I've really learned …with these boys through the past couple of years [by] watching them grow and develop as young hockey players and as young men."
With so many outgoing players, Engle wants to teach his team as many of these life lessons as he can before they're gone, he said.
"Nothing is just going to be given to you; you've got to work for it," he said. "[After college], it's basically going to be on your shoulders [to do] what you want to do."
Sheehan has also gained some major takeaways from his experience playing LT hockey, he said, the biggest being to pace himself and that the entire journey is what matters.
"Life is a marathon, not a [sprint]," he said.
LT hockey's season continues on [date of next game] against [opponent] at [venue].