Branch of Hinsdale cult opens up at Lyons Township, students fear safety
This past week, Lyons Township High School North Campus was sent into a hard lockdown after receiving multiple Speak-Up Line calls about threats involving alleged "cult-like activity and witchcraft" within the classrooms, halls and bathrooms. Further investigation traced threats back to the Institute of Basic Life Principles, the infamous cult located in Hinsdale, Ill. An anonymous cult member came forward and confessed that there was a branch of the cult active at LT that practices in the Corral, only moments before sentencing himself to eternity in the underworld.
"Levitatus, Colonus, Over zealous RULER," the anonymous, cloak-wearing cult member bellowed.
The cult member's quote is being interpreted at this time. Reports that there was "demon-like" activity taking place in these very halls prompted LT Principal Breadcrumb Waterboi to take affirmative action and look into these accusations.
"I have noticed some students without pupils," Waterboi said. "We are doing everything we can to put a stop to this deviant behavior, so if you see something, say something, whether it's a chant or goat footsteps. Please do not hesitate to speak up."
Everyone at this time is encouraged to make use of the Speak-Up Line. In fact, some students already have. One anonymous caller said that a classmate of his was allegedly 'levitating' in study hall. The levitating student, along with four others mentioned in these threats, has been taken into custody.
Some parents of the accused students have stepped up to highlight some of the warning signs.
"I first noticed when my son, Jeremy, entered our home stroking a black cat," Janet Smithe, a parent, said. "He was with his friends, all of them pupil-less, wearing black robes, and I know it sounds crazy but I could have sworn they were hovering a few inches above the ground."
At this time, LT warns everyone to take caution and that if you or anyone you know is involved, to please come forward.
About the Writer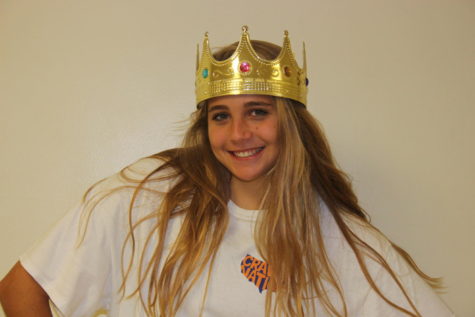 Sydney Kaehler, Opinions Editor
Hi, I'm Sydney! I'm the Opinions Editor and Editorial Cartoonist. A little bit about me: I lost my middle school election, I got 1,000 loops on Vine...