Renowned author visits classes virtually
Chris Crutcher gives presentation to students, teachers free of charge
Since 1985, author Chris Crutcher has been traveling thousands of miles to visit schools across the country and speak with students about his journey as a writer. Due to the pandemic, Crutcher began offering free, virtual visits to schools and visited LT English classes on Nov. 16 and 23.
"When I saw the pandemic happening, I realized that all these teachers would have to be figuring out how to make this work and to get through this," Crutcher said. "[Providing free visits] is a way that I can help. It will give teachers and students a different thing to talk about and take some pressure off. It also gives more schools the opportunity to be able to afford author visits."
When English teacher Alexander Lyons came across Crutcher's website and saw that Crutcher was visiting schools free of charge, he contacted librarian Kristen Rigano, asking if a virtual visit would be something she was interested in, Lyons said.
"I am all about finding things the English teachers and students are interested in, so the fact that it came from a teacher was what started the whole thing," Rigano said.
After Lyons proposed the idea, Rigano reached out to the English teachers asking if they were interested in having Crutcher visit during their class periods. Presentations were given in various classes during periods one through four, with mainly underclassmen participating, Rigano said. Rigano was glad to provide students with an escape from the usual school day and a chance to learn something new.
"I think [it benefitted students] in a few different ways," Rigano said. "From a curricular standpoint, seeing someone talk about their own passion for writing can rub off on others. I also think our worlds right now are very small, so seeing someone from outside our own world is something we don't have the chance to do much anymore."
While organizing the events, Rigano noted that Crutcher was very responsive in their communication and seemed enthusiastic about providing this opportunity to students. 
"He asked what we wanted him to talk about [during the visits] and I left it open to the teachers," Rigano said. "He was very friendly and was even willing to customize [his presentations] for different class periods."
After communicating with the English teachers and Crutcher, Crutcher decided on the main focuses of his presentations: the importance of writing, Crutcher's writing process and personal writing experiences, his inspiration for writing and even the idea of grit and increasing one's perseverance.
"One of the things I found out is if you pay more attention to what kids are most likely to be interested in, [you will be more effective]," Crutcher said. "Being able to go to schools and listen to feedback and students' responses to my books, that's what I like about [visiting schools] most."
Having visited schools for about 37 years and written professionally since 1983, Crutcher finds it important to give his audience the chance to ask him any questions they want, he said. He enjoys connecting with people and seeing how they respond to his stories.
"If you read one of my books, it really isn't important [to me] what I had in my mind when I wrote it; it matters more what you get out of it," Crutcher said. "I want you to get as much information as you can get [from the presentation], be entertained and walk away with something you didn't know before I came to visit."
About the Writer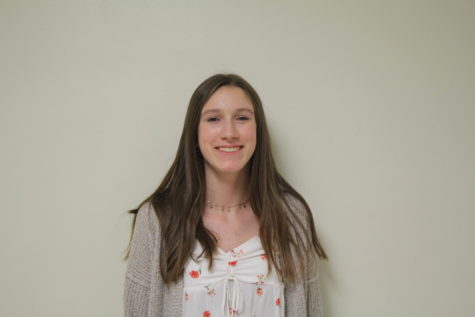 Lillie George, Reporter
The only reason I joined the Lion is so I could feel like Rory Gilmore.