"SNL" brings laughs in first home edition of show
Social distancing and stay-at-home orders have caused so much in our lives to change in the past month. But even in this time of turmoil, we still need to let go of our stress and laugh. That is why I was overjoyed when I heard that "Saturday Night Live" was coming back to put on an episode filmed from the cast members' homes. Obviously the show couldn't be filmed in its usual format, but through Zoom calls and videos filmed, the cast was able to put together a great show on April 11. The full episode can be viewed on Hulu, while individual sketches are available on "Saturday Night Live's" YouTube page.
There was no cold open this week. Rather, the episode started with a cast Zoom meeting, followed by the opening credits, which showed the cast members in their homes, rather than around New York City. Highlights included most of the male cast members sporting quarantine beards, Mikey Day losing a sword fight to his son and Colin Jost having a drink with some American Girl Dolls. 
Whoever decided to have Tom Hanks host the show was a genius. Hanks became the celebrity face of the coronavirus when he was diagnosed back in March, so seeing him healthy and performing filled me with a sense of hope for the future. Despite having no audience, Hanks delivered a great monologue. He was equal parts funny and inspirational, which was exactly what we needed. He even included a few jokes about "S.N.L." itself in the monologue, something that probably wouldn't have been allowed if this was a regular episode.
"Trying to be funny is SNL's whole thing," Hanks said.
While the cast members didn't have elaborate sets and costumes, they used their creativity and outside-the-box thinking to bring the sketches to life. While watching the show, you could tell that the actors were fully immersed in their characters despite having to film from their homes.
Over the past few years, I've heard a lot of people say that "S.N.L." has lost some of its creativity, but I believe that the challenge of coming up with sketches from home pushed the writers to devise some truly hilarious sketches. 
My favorite sketches of the night were performed by Kate McKinnon and Alex Moffat. McKinnon decorated her own posters to turn her room into Justice Ruth Bader Ginsburg's home gym, and she didn't pull her punches against conservatives during her workout. Moffat's sketch had me in stitches when he narrated at home events in the style of a British play-by-play sports reporter. 
Like any other episode of "S.N.L.", my favorite part of the show is Weekend Update. Colin Jost and Michael Che delivered some hysterical jokes despite being a little uncomfortable with their new format. I love the dynamic between Jost and Che, and thankfully, it wasn't lost over the Zoom call. 
The episode wasn't all laughs though—it also included a beautiful tribute to Hal Willner, the music producer for Saturday Night Live who passed away due to the coronavirus. 
"Saturday Night Live"'s"return is exactly what we need right now. It brought laughter and relief in these confusing times, and I can't wait until the next episode.
About the Writer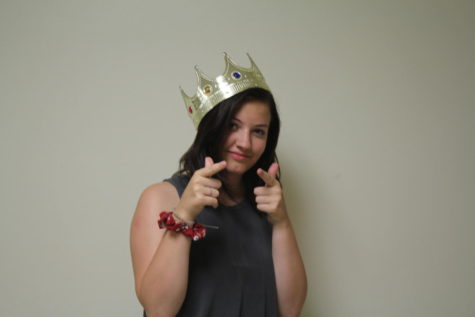 Olivia Janik, Co-Editor in Chief
I'd like to thank my arms for staying by my side, my fingers for always being there for me to count on, my back for supporting me and my hips because...