Speech team approaches higher level competition

As the end of the season approaches, speech team is working hard to prepare for regionals in hopes that it will move onto sectionals and possibly state.
"The season's been going pretty well," speech team Head Coach Kirsten Manthei said. "We've had some really tough tournaments in the beginning [of the season], which I think is challenging, because it can be really frustrating for the new people on the team who've never done it before. A couple years ago we had a really strong team and last year was more of a rebuilding year, so I'm anticipating that this year we will do well."
LT's speech team hasn't been to state since 2014, Manthei said. Last year, Spiro Kass '18, Miles Hession '18 and Pilar Valdes '19 were the only members on the team to place in regionals, with Valdes and Hession making it to the final round at sectionals.
"Speech team is really different from another activity or sport where you might go and have a lot of success," Manthei said. "The kids on speech are competing every week and they may never win anything for their first year or two. They may be coming in last place every week for their first season, so it's really hard to stay motivated and focus on improving and getting better. A lot of kids are used to being in activities where they are seeing success every time they do it."
In addition to working on their speeches, the team is also trying to build their chemistry and rebuild the team because of all the new members this year, Kass said.
"We've been a relatively new team for the past two years," Kass said. "Everyone's still getting used to the the flow of how tournaments run, so we're doing pretty well for our circumstances. Team chemistry is a big thing we're pushing this year; getting everyone comfortable on the team has been the biggest obstacle so far. I expect the team to get more used to speech, because they're so new there needs to be more learning and eventually we will start becoming more competitive. As of now it's more of a learning process."
With last year being slightly disjointed, combined with many underclassmen, the team is trying to become more cohesive so they can place as a team at regionals, Valdes said.
"This year, we're a lot more state oriented because we realized last year that LT has the talent, but it's all about the mindset of getting to state," Kass said. "So as long as we have enough motivation and effort, I think we have just as equal a chance as some of the other major schools."
About the Writer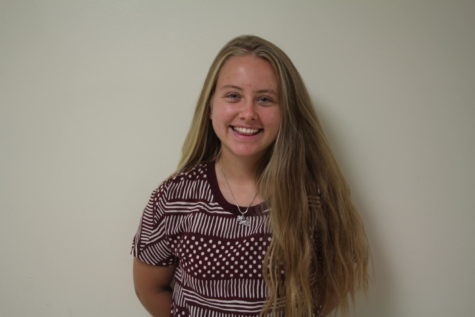 Georgia Dougherty, Pulse co-editor
Things I love include my bulldog Cow, chapstick, sneezing, saying the pledge of allegiance in Latin, and the Oxford comma. Things I don't love are vacuum...