Boys' swim race towards state
Last year, LT boys swim and dive team became state champions for the second year in a row. They accepted their trophy with bright smiles and feelings of disbelief as the crowd roared and cameras flashed. The whole team lept into the New Trier pool to celebrate the win, because they had done it again. This year they are hoping for a similar celebration.
"I am really excited to get back into the water with the team," Henry Claesson '18 said. " There is definitely some pressure, and some eyes are pointed at us, but I think we are going to just get in and do what we normally do.  We'll have to see where it goes from there."
In 2017, they won the state meet with 156.5 points.  Hinsdale Central placed second with 142 points, while New Trier placed third with 120 points.
"[Winning state was] one of the best moments of my life," Michael Walsh '19 said.  "It was awesome that all the of the hard work we put in throughout the season was able to come together in the end with a win."
Not only did the boys become state champions, but Spencer Walker '18,  Jeffrey Vitek '18, Ryan Hammond '17 and Walsh '19 set a new state record in the prelims for the 200m Medley Relay with a time of 1:30.91.
"It was a crazy experience," Vitek said. "I love relays because it is not just you, you have your team.  When we finished and saw the time we all went nuts. I want more of those feelings. I'm excited, and I think we can do great things this year."
The program at focuses on creating a brotherhood in and out of the pool, Vitek said.  All the teams practice together at the same time.  During dryland, the captains make sure to put swimmers in a variety of groups not based on their swimming ability.  This creates strong bonds throughout the program.
"My favorite part about LT swimming is that there are really no divisions between JV, frosh-soph, and varsity," Vitek said. "We are all one team. I'm confident that my senior class can really bring the team together in the brotherhood it has been the last four years."
This season, the team is hoping to continue with its work ethic and maintain the focus that it had the past few years. They have to stay driven in and out of the pool.
"[The team needs to] keep a good work ethic throughout the season, and making sure that everybody throughout the team buys into the program," Varsity Coach Scott Walker said. "Everybody finds a way that they can contribute to a hard working, positive environment. I think that is how we ended up being as successful as we were last year."
Notable meets this season include the dual meet against Hinsdale Central on Friday, Dec. 22 at 5 p.m. at the SC pool and the New Trier invitational on Saturday, Jan. 13 at 12 p.m. at New Trier. Their first meet is Dec 1 at 5:30 p.m. at Glenbrook North High School.
"I'm excited to see how everyone emerges and how much people improve," Vitek said. "It will be a great year."
About the Writer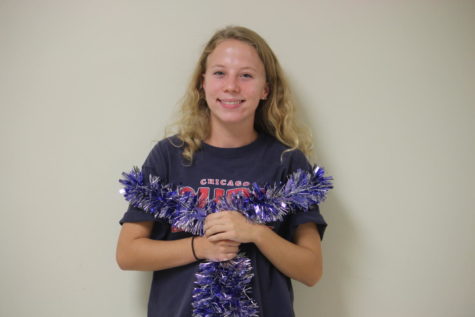 Mary Okkema, News co-editor
I think I know more about planet earth than you do GENIUS!

Twitter: @MaryOkkema