Taylor Swift releases 'Midnights'
Surprises fans with seven additional songs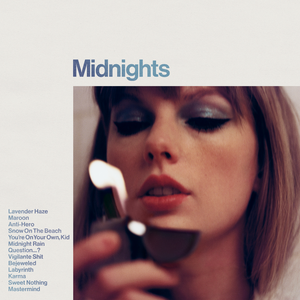 Taylor Swift released her new album "Midnights" on Oct. 21 at midnight. The original album features 13 songs about 13 sleepless nights; she gradually revealed track titles leading up to the release via social media. Fans were surprised with the release of a deluxe album, "Midnights (3 a.m. edition)" at 3 a.m. that same night, featuring seven additional songs.
Prior to the album drop, she teased her music video "Anti-Hero" during Thursday Night Football on Prime Video. The original 39 second teaser was a montage of clips we are speculating will be in her future music videos. 
"Watch my nightmare scenarios and intrusive thoughts play out in real time," Swift said in a tweet announcing her new music video.  
Swift's advertising around this album was very strategic and amplified excitement for the release. It even led to a record for most streamed album in a single day, causing Spotify to crash.
The 3 a.m. release definitely left us all shocked. Although the deluxe album trend is popular, we have never heard of anyone releasing additional songs as a surprise in the middle of the night. Leave it to Taylor to put her own spin on the trend. Some songs that we thought were definite hits were "Would've, Could've, Should've" and "Bigger Than The Whole Sky." These songs, and the rest of the 3 a.m. edition, shows a completely different side of the album. The lyrics are much more raw and heartbreaking. The songs were produced by Aaron Dessner rather than Jack Antonoff, showcasing a slightly different style than the main album: experimenting with raw instruments instead of the tech-style the rest of the album uses. 
Our feelings about the album did vary between the three of us. We originally thought that the new album was going to be similar to "Folklore" and "Evermore," with a fall and cozy theme. If not that, we thought the new album was going to be the opposite and resemble a "Reputation" style album. Amid our initial disappointments, we all love that the 13 songs resemble different stages in Swift's life. The album has grown on all of us and in a way emulates a mix of all her albums. 
Our favorite songs were "Snow on the Beach" (feat. Lana del Rey), "Karma," and "Maroon." The flow of "Snow on the Beach" stood out from the rest with an upbeat sound. It resembles Swift's "1989" album which we appreciated. Although del Rey was barely in the song, she added a nice addition to the background vocals. It was also an iconic duo since del Rey and Swift are such popular female artists. 
As for "Karma" the ironic lyrics and very catchy beat makes this song such a bop. "Maroon" on the other hand is more delicate and subtle than the other songs through the way she brings it all together.  It reminds us a lot of "Delicate" and "Dress" from her album "Reputation," which is one of our favorite Swift eras.
 Some of the low points in the album for us were "Anti-Hero" and "Vigilante S***." For "Anti-Hero," we all feel like there were better songs that Swift could've chosen from the album for the first music video, and she definitely should've released her music video for "Bejeweled" first. As for "Vigilante S***," the song has no fun beat drops and it almost feels like she is talking to us instead of singing. Although it is the most like her previous "Reputation" album, it is severely lacking in the true reputation style. 
Swift has smashed the charts since releasing "Midnights," fully sweeping all 10 spots on the Billboard Top 100. On Spotify, she broke her own record of most streams from a female artist in a single day, the previous holder being "Red (Taylor's Version)" with 90.8 million streams. "Midnights" got 185 million streams in a single day. She made the biggest sales weekly in the U.S since her 6th album "Reputation."
4.5/5 paws