"Pearl" movie review
Dark, sad horror drama filled with symbolism, depth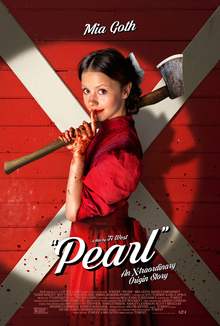 Out of all the horror movies I've watched, "Pearl" has to have the most symbolic yet discomforting plot I've seen. Ti West, the director, gives us a prequel to his earlier movie "X," a horror flick starring Mia Goth as the main character, Maxine. 
In the film, Goth plays a young woman named Pearl whose husband is serving in the war and Pearl feels trapped with her overbearing mother on their farm. Pearl's only dream is to leave her isolated home and become a star, dancer, or anything to prevent her from staying on that farm for the rest of her life.
West is drawing a rather true yet uncomfortable parallel between the romanticized Hollywood life and the gradual arising of a serial killer. 
Eerie vibes radiate from the main character and you can feel it in every scene and angle. It gives an excellent aesthetic to the film. The lush and overwhelmingly colorful cinematography gives the film a creepy and ironic undertone.
Pearl feels stuck trying to be the person her mother, husband, and even Hollywood wants her to be, which connects to some of the modern-day social issues and expectations surrounding women and their image.
I thought the film was genuinely horrifying and each scene had a purpose and links to social problems we have today, which gives the story and characters more depth and motive. 
This was especially true in the scene in which Pearl and her mother have an explosive argument. Pearl expresses the pressure of not being good enough and not living up to standards in the eyes of her mother and society. 
Goth's portrayal of Pearl is insufferably sad and astonishingly scary, and oftentimes simultaneously building up to one of the great one-take horror monologues. Goth is undoubtedly a great actress and performer, and nothing is as heart-stopping and impressive as Pearl's reaction to a pivotal dance audition for the local church. As an actress, she is raw and unfiltered and you can clearly see her dedication to the role and the movie. 
West does a fantastic job showing her transformation into a psychotic killer. He communicates to the audience that it was the effect of her environment, as well as her gender and time period that made her lose her sanity.  
It is the details throughout the movie that make it great. For example, the deep red dress she wears for the church audition makes you can't turn away from the screen, which adds a hypnotic factor into the character. Goth's performance effectively shows the character's wants and needs, through fault lines created when things don't go the way she wants. 
Overall I thought "Pearl" was a sad horror film, with scenes and performances that will make you question whether or not you're supposed to laugh or cry–until you realize the best part of the film is that you are absolutely supposed to do both.
Paws: 4/5