Lorde releases new album
Returns with "Solar Power" after four year break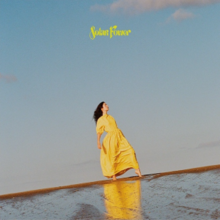 After her four year hiatus from producing music and social media, Lorde announced her third album "Solar Power" with the release of her single "Solar Power" on Aug. 20. Lorde's single, released alongside a music video on June 10, sparked a lot of attention. 
The sunny vibe of the album was introduced and left millions anticipating the release of the whole album. The 43-minute album represents a new Lorde after she spent time in Antarctica helping penguins in 2019 as an ambassador. While her previous album "Melodrama" (released in 2017)  was toned down with sadder undertones, the energetic and relaxed feel of the new album intrigues listeners.
Lorde's albums are known for having story lines. Her first album "Pure Heroine" told the story of her fear of ageing, while "Melodrama" focused on the stages of a breakup. "Solar Power" focuses on finding yourself, which shows a transition into a matured and happier Lorde that fans are eager to hear more of.  Lorde has mentioned that "Solar Power" is a response to "Pure Heroine" as seen within "Ribs," a track from "Pure Heroine," and "Secrets From a Girl (who's seen it all)," the sixth song "Solar Power". 
"Ribs" focuses on anxiety and teen angst, while "Secrets From a Girl (who's seen it all)" creates a conversation with your future self telling you to stay strong, putting a positive spin on life and hardships. Lorde still hints at her somber side as seen in "Stoned at the Nail Salon," which revolves around her search for her purpose in life, and "Fallen Fruit," which focuses on the central theme of the album: our dying planet. 
However, these completely contrast with "Solar Power," the song that revolves around happiness and energy causing the album to have many different vibes than her past work. With the raw vocals seen within "California," Lorde also uses her instrumental skills as seen in "Secrets from a Girl (who's seen it all)," which gives listeners a sample of her New Zealand accent as she dialogues through the end of the song. Lorde also took many risks by including interesting instrumentals and sounds such as cicadas in the intro of the song "Solar Power." Lorde also has introduced acoustic instruments, mainly guitar, to the majority of the album. The relaxed vibes of the album make you feel like you are sitting on a beach with waves crashing into you, overall content and peaceful with many surprise factors. Her voice overpowers every instrument she uses flooding with her deep lyrics 
Her album definitely gives listeners a variety of things to listen to and emotions to feel. The wait for her return was undoubtedly worth it. Lorde demonstrated that she does not only possess her well known sadness, but can also create positive pieces of art. "Solar Power" is a way to escape reality and be swallowed by her vocals, instrumentals and lyrics. Since the release of the album, Lorde released a music video for "Mood Ring" as well as rooftop performances of "Dominoes," "Stoned at the Nail Salon," and "Solar Power" (Normal and Summer Storm Version). Lorde has introduced a new style and will hopefully continue to produce music into the future, without a four year gap.
5 Paws out of 5