Beautifully Incorporated promotes body-positivity
At the beginning of summer, four newly graduated LT students started a campaign about body-positivity and self-confidence. Using social media and photography they have conveyed these messages to spread positive feelings. Project starter and Indiana University freshman Lauren Scriba '19 has worked to create purpose and joy through her Instagram account with her team of Maggie King '19, Skyla Stillo '19 and Camilla Breen '19.
"At its core, Beautifully Incorporated is an opportunity for people of all ages, genders, sexualities and races to practice self acceptance and self love," Scriba said.
The account, @beautifullyincorporated, posts quotes and photos that showcase different feelings of beauty, Scriba said. Since the birth of social media, comparison and stigmas surrounding what someone should look like has grown. Beautifully Incorporated allows people to find a community centered around loving who they are.
"As for the account, I think it shows people that you don't need to fit certain criteria in order to be beautiful, and it definitely taught people that everyone is uniquely beautiful in their own way, hence the #beautifully me," participant Jillian Brunner '21 said.
On July 20, there was a photo session of 36 women, Scriba said. Throughout this day, they took portraits to capture when they feel the most beautiful and described what makes them feel #beautifullyme. The photos that photographer Breen took were used to display the different forms of beauty. They hope to expand to represent all types of people, since not just women feel comfortable in their own skin.
"We plan to help more people feel beautiful and comfortable, not just women," Breen said, "[We want to] help people realize that their imperfections/whatever they think isn't 'beautiful' is actually normal and in fact beautiful."
The team of Beautifully Incorporated faced some challenges, as all four went to different colleges, Scriba said. But it is not stopping the process. They have continued to post uplifting motivations and messages and have more projects in the works. There are future photo sessions being planned to help people feel confident.
"I normally don't like when people take pictures of me," Brunner said. "So to have the girls around me telling me how 'beautiful' I looked was a rare and very special experience."
The team hopes to not just focus on photo sessions since they can not include everyone, Scriba said. They emphasize that people do not have to partake in the photo shoots to be a part of Beautifully Incorporated.
"Simply post a picture of however you feel most beautiful and use the hashtag and Instagram handle to show your support," Scriba said. "Instagram should be a place where we remind each other of the ever-present, ever-changing fluidity of the construct of beauty."
About the Writer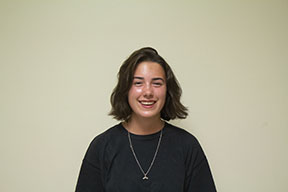 Quinn Riordan, Assistant Social Media Editor

I'm running a dojo of coolness
Sometimes you gotta work a little so you can ball a lot