Revival of a classic
It's no question that 20 years ago American culture was a stark contrast to what we see today. In 1996, Bohemian art and culture was at its peak, though unfortunately, so was the HIV/AIDS epidemic. Jonathan Larson's rock musical "RENT" captured the essence of the era, highlighting the impact art can make in the world.
The show won not only four Tony awards, but a Pulitzer Prize for drama as well, making it one of the most successful shows to ever hit Broadway. For its 20-year-anniversary, it's been touring the country, playing in Chicago at the Oriental Theatre May 8-13.
The show is told by Mark, portrayed in this tour by Danny Harris Kornfeld, an amature filmmaker and videographer. He shoots his familial group's lives as they go through a 525,600 minutes of life- struggling through one year in New York, broke, falling in and out of love, and fighting AIDS.
"RENT" opens on Mark and his roommate Roger (Kaleb Wells) receiving a call from their ex-roommate Benny (Christian Thompson), demanding rent for the past year that he initially insisted he wouldn't charge. Mark gets called away to assist with his bisexual, overdramatic ex-girlfriend Maureen's (Katie Lamark) performance, in protest of the eviction of the homeless. She now has a new love interest, a lawyer named Joanne (Jasmine Easler) who later bonds with Mark as they discuss the harrows of dating Maureen. Roger is persuaded into joining as well, an impressive feat considering he hasn't left the house in the six months he's been back from drug-rehab and an HIV diagnosis. He was lured out of the shell he'd crawled into by a promiscuous, heroin-addicted exotic dancer who flirts heavily, eventually falling for the man she'd only wanted to 'light her candle.'
David Merino truly steals the show with his interpretation of Angel, a flamboyant gay drag queen who falls in love with Mark and Roger's friend Tom Collins (Aaron Harrington). He brings exuberance and energy to the already show-stopping character, though his charm and sensitivity add another side to Angel—I was scouring my purse for tissues as his health declines and he succumbs to AIDS. His vocal range is astounding, going from sweet and sugary to when he first meets Collins to belting out "Today 4 U" while jumping tables in full drag and stilettos.
Similarly, Skylar Volpe's practical pole-dancing as she beckons Roger to live each day like it's his last (as she does in consideration of her AIDS status) is sultry and seductive, making the audience whistle and whoop. Her portrayal of Mimi Marquez is outstanding, and Volpe's voice arguably displays a greater range than the original Mimi 20 years ago.
The entire crew gathers together to toast "vive la vie Boehme," or living the artistic Bohemian life. The importance of art and culture is stressed heavily throughout the production, but never more so than in the closing number of Act I, singing to the rafters about living in the moment, enjoying oneself, and measuring the minutes we have in the best way possible.
The use of voicemail and messages is a clear sign the show is on a revival tour, considering answering machines are a thing of the past. The frequent use of answering machines and voicemails was an interesting method of conveying the passing of time as well as providing background information as the characters' family members call and leave messages for their loved ones.
In a grunge fashion, the stage is set with metal garbage bins, a few tables, prop electrical cords, and an intricate metal structure that can best be described as an abstract metalsmith's attempt at a Christmas tree. The music thrummed through my chest with each chord, though the rock aspect was taken seriously to the point the orchestra drowned out singing—I was not the only one double checking the synopsis at intermission to ensure nothing important had been missed.
Another tell of the show's age was the choreography: actors climb metal structures, play five-gallon buckets as drums, and dance suggestively in a song detailing the character's intimate lives. Certainly impressive, but nothing like I had expected. It wasn't necessarily a disappointment, but more ensemble involvement would have been appreciated to break up the monotony of the same six main characters onstage.
The show is not one for the faint of heart–its profanity would have made is racy in its time, but now that shows like "The Book of Mormon" have been on Broadway for six years, "RENT" loses some of the initial shock effect it once had. It's diversity was once another novelty to the "Great White Way," though after shows like "Waitress" and "Hamilton" debuted, a full-color cast isn't anything special to modern theatre-goers.
The message is not lost, though it's more challenging to see how poignant it must have been two decades later, when HIV/AIDS is less prominent and Bohemian culture truly may be winding down. The lyrics are still as outstanding as they were two decades earlier, clean and precise in every word. "RENT" will be a show to make the audience laugh, cry, and moo alongside the cast- trust your desire, and if at all possible, celebrate the Bohemian way and experience the performance firsthand.
Leave a Comment
About the Contributor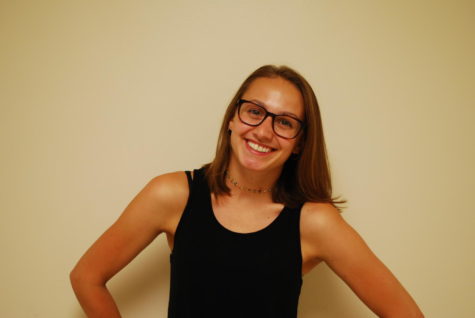 Grace DeKoker, Editor-in-Chief
Hello! In case you missed it up top, my name is Grace DeKoker, and I'm the editor-in-chief of the LION this year. If you ever need a cheesy science joke,...