Magic man
Teacher incorporates magic into his classes to keep students engaged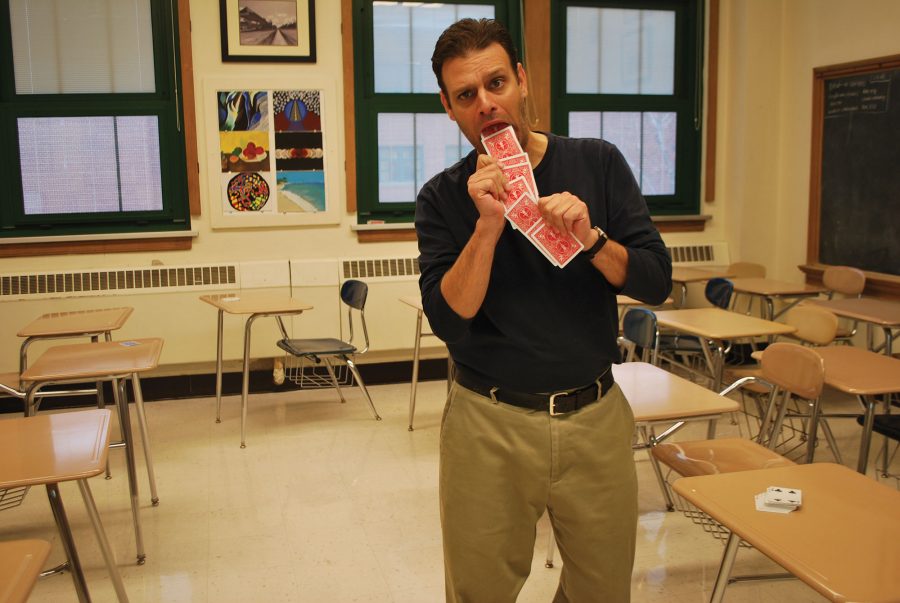 Katie Palermo, Photo editor
December 2, 2016
Since the young age of 8, LT English Teacher Frank Alletto has been interested in magic.
"My parents signed me up for a 'magic class' and I loved it," Alletto said. "It was my hobby on and off for years, but it wasn't until my 20s that I began performing as a side job."
Along with teaching at LT, Alletto worked as a restaurant magician at TGI Fridays, Max and Ermas and Bennigans as a side job. His magic career came to a halt in his late 20s when he decided to go to graduate school. It wasn't until five years ago that Alletto started back up his side job as a magician.
"Currently I perform at Fox's Pizza in Hinsdale and Francesca Bellezza's in La Grange," Alletto said. "I also perform at public and private events, mostly on the weekends."
While Alletto has no specific favorite magic trick, he believes that any magic that happens in the spectator's hands is the most enjoyable aspect for everyone.
"Don't worry about 'tricking' the audience," Alletto said. "Engage and entertain them. Make them laugh and forget about their daily tragedies. Surprise them and allow yourself to be surprised!"
For his students, magic isn't a daily occurrence in class, it's an end of the week gift. Every Friday is "Magic Friday".
"Our class looks forward to Magic Fridays," Ava Sengpiel '20 said. "We enjoy his humor and his tricks and I will never understand how he does his tricks."
Tricking the audience is not the goal of magic, Alletto said. Magic is not supposed to puzzle or ruse the audience; it's supposed to engage them in a communal, not confrontational, way.
"By the end of the school year, it's the only way I can get seniors to show up!" Alletto said