Athlete of the Year
Vote for Athlete of the Year:  https://forms.gle/uXNU4sp1Ht5Ru8TD7
KATE DICKMAN
Kate Dickman '21 has been racking up accomplishments all of her high school running career. She is a three-time Cross Country Varsity MVP, three-time track and field sectional champion, and had an eighth place individual finish at the ShaZam High School Championships. At the state level, she has anchored a third-place 4×800 relay team at 2019 IHSA Track and Field State Finals, has finished 16th individually and been a scorer on a third place team at IHSA Cross Country State Finals, and is a member of the IHSA all-state academic team. 
"Running has done so much for me over the years," Dickman said. "I am very thankful for running for teaching me how to be balanced and how to be gentle with myself and treat myself with kindness."
While Dickman has been collecting honors and awards, she has appreciated the difficult moments outside of the physical hours of races and training that have helped shape her, she said. One of these mental and physical challenges was an unknown battle with anemia her junior year.  
"Since I didn't know I was anemic until after the season, it was really mentally taxing," Dickman said. "I spent months questioning my abilities as an athlete, and as a result, retained a lot of self doubt. [However] I was also exposed to Coach [Alex] Lyons who always had confidence in me and helped me build confidence in myself." 
Dickman is continuing her career at the University of Illinois at Urbana-Champaign and is excited to be a part of her future-team's successes.
LINDSEY HAHN
Lindsey Hahn '21 has built up strong teams along with her legacy of leadership through her four years on the varsity basketball team. Hahn was a McDonald's All American nominee, made first team all state, was named all conference twice, was invited to all-star games and participated in the West Suburban leadership conference. Hahn cherishes each second she has gotten to spend on the court, she said.
"I would say that every moment I have played on the girls basketball team has truly impacted me in such an amazing way," Hahn said. "Basketball means so much to me for many reasons. It means that I get to get out of my house, go see some of my best friends and work to keep improving who I am as a person and player."
Hahn credits basketball and the relationships she has formed because of the sport as the reason she is who she is today. She has developed strong values of support and determination through the sport and the hard lessons it has taught her since she began playing in first grade, she said. 
"Every step of the way, I have learned so many things," Hahn said. "How to be a better leader-someone people can not only look up to but also come to for anything. How to allow myself to know it's ok to fail, and to continue to push through any challenges I face. And most importantly, how to believe in myself."
Hahn will join the Winona State Warriors next fall in the Northern Sun Intercollegiate Conference.
OWEN HAYS
Owen Hays '21 has been an all-conference athlete multiple times during his four-year stretch running on the varsity cross country and track teams. This season, he led the cross country team to win the West Suburban Conference, and he earned all-ShaZam honors. Throughout these impressive accomplishments, Hays has battled mental and physical challenges just as powerful, he said. 
"I've battled some issues that I had with my blood pressure and heart rate last year that knocked me out from competing at a high level," Hays said. "Mentally it really challenged me and made me question whether or not I wanted to continue with the sport." 
These heart issues, as well as multiple leg issues, could have ended Hays' career. However, he has been able to refocus his goals with the help of teammates, coaches and family in order to turn things around for himself, he said. 
"I'm probably most proud of myself for being able to come back from my heart issue last year and continue to push myself through that time as well as during [COVID-19]," Hays said. "Cross country and track mean a lot to me because they've taught me how to be more disciplined with what I do."
Hays will join the University of Wisconsin-Madison cross country team–the Big Ten Conference champion for three years running–this fall to continue his career. .
AVA KOSTECKI
Ava Kostecki '21 snagged her first all-conference placement as a sophomore on varsity after being Junior Varsity MVP as a freshman. Softball has been a huge fixture in her life for as long as she can remember, she said. She has year-round competition that has barely faltered during the pandemic between her elite Chicago Cheetahs club team and a high school season, she said.
"Softball helped me cope with the pandemic that was happening," Kostecki said. "I wasn't able to play with my high school team but I got to play with my club team all summer and fall. I also trained on my own and both were nice distractions from everything going on."
Kostecki has loved the game since she first played when she was eight years old, she said. Whether it is pitching eight-inning no hitters against Downers Grove North or chasing buses down Plainfield Road to get a teammate's phone, Kostecki has remained committed to both being a good softball player and a good teammate. 
"My favorite thing about the sport is having a good time with my teammates," Kostecki said. "I just love the sport, the competition, the people, everything."
Kostecki will continue her career at University of Wisconsin-Whitewater. She will join the three-time defending Wisconsin intercollegiate athletic conference champions next year. 
LIAN MALAS
Lian Malas '21 has been making his mark in the pool his entire high school career. Outside of leading teams at LT, he has been selected to try out for the USA Water Polo Men's Cadet and Development national teams, played abroad in Greece, and received a Junior Olympics medal. During the last full season he played at LT, he led the team to a second-place state finish, and he is working to continue his legacy this year. Despite struggles every step of the way–as simple as even finding pools that had water polo goals to train with–Malas has never lost his deep love of the sport, he said.
"The reason I have committed to this sport with all this adversity is because it's the only thing that keeps me going," Malas said. "Once I'm in the water I forget about everything else and just play." 
Malas has treasured every experience water polo has brought him, he said. He loves the hard work that it takes to reach ultimate goals and has carried this determination with him in every game he has played.
"This sport means everything to me," Malas said. "I have worked since 6 years old to get where I am today. It's basically my whole life."
Malas will be playing overseas in Spain next year and hopes to start playing collegiately in the fall of 2022.
JACKSON TURNER
Jackson Turner '21 has played soccer his entire life. He has had a ball at his feet since he was 4 years old and has been a varsity starter for three years of his high school career. Turner was a part of the 2018 team that made Super-Sectionals, the first team in eight years to do so. He also captained this year's highly ranked team, which peaked as the top team in Illinois and finished ranked second in state, he said. 
"I chose to remain committed to soccer this year because LT soccer is the best," Turner said. "I absolutely had to be a part of it. I can't really imagine what it would be like to not play soccer because it is all I know, and it has become a part of me."
Throughout shortened seasons and disappointments over cancellations, Turner has always tried to do what needs to be done, he said. He had to overcome a huge position change after playing midfield his entire life. His team needed a center back, so he was forced to train to get to an elite level quickly. He has never faltered in his commitment to the sport and plans to play club soccer at the University of Georgia next fall, he said.
About the Writer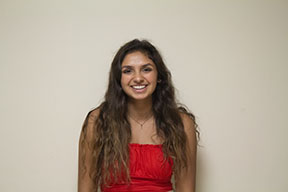 Lizzie Patel, Reporter
I'm straight up not having a good time