Boys soccer returns, trains
Boys soccer has been a staple of success for LT since the team's state title in 2009. Consistently ranking highly in arguably one of the most talented soccer conferences in Illinois, the varsity team has cemented its place as a program that always has a shot at state. 
This year, their goals and expectations have had to change, varsity head coach Paul Labbato said. With the removal of a state series by IHSA, the goals that the team, particularly returning seniors, had been building on since last year have been stripped away from them, Labbato said.
"Since this group of guys were in middle school, they've visualized winning a state championship together as seniors," Labbato said. "Putting it together game to game without that goal is the biggest challenge. They're all really good players. Now they have to prove it. It's easy to say, but it's difficult to make happen."
Uncertainty and frustration have run high since the season—which normally begins in August—was first pushed back, three-year varsity starter Jackson Turner '21 said. Soccer, a sport with moderate risk classification, began its season on March 1, six months after players expected. The team will begin the tryout process on Monday and have their first game the following Tuesday, so they will have to shorten and adapt their tryout process, Labbato said.
"The biggest change is that everybody's going to have to learn how to share," Labbato said. "The grass fields are always off limits at the beginning of March, so now we have one turf field for a bunch of teams. Moving forward, we just have to be equitable with space both within our program and within the school."
Training for a season that is in constant jeopardy of being cancelled can start to weigh on the team's motivation and morale, but this LT team has worked hard to remain appreciative, returning varsity player Jack Swicionis '21 said.
"Obviously knowing that your season could be cancelled at any moment is hard to deal with," Swicionis said. "But my expectations of what we're going to get have been lowered over time.  I already know that the season is going to be different, but everyone is still hopeful that we'll be given the opportunity to play some games. I'm just hoping that I'll be able to put the LTHS jersey back on and play for my school."
Strong focus on a successful season has never wavered. The 10 returning seniors have met after each IHSA update to keep a strong mentality, Labbato said. Consistent hope and commitment to this high school season will only help strengthen the solid backbone this team will build upon.
"Our previous year seniors, every year, do a wonderful job teaching the year below them how it's done," Labbato said. "We're not worried about who needs to step up. We have lots of returning players that are just ready to take this moment."
The players' strengths lie in more than just their dedication to and anticipation of this season. The team is to start the season treating every game like a state series playoff because that is what they have to do if they want to win the conference, Labbato said. They are hopeful that this season will bring triumphs, particularly over a team that is consistently the best in the state: Morton High School. They are scheduled to face Morton in their first game of the season on March 11th. 
"Morton is always a staple to be one of the top teams in the state," Swicionis said. "If we end up coming up against them, I definitely think it would be a huge challenge. We aim to win the conference every year, and we feel like we have a special group of guys this year that are capable of doing big things."
About the Writer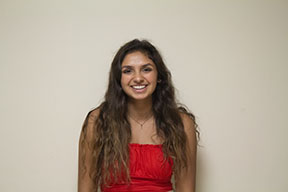 Lizzie Patel, Reporter
I'm straight up not having a good time