AOTM: Bryson Breitenbucher
When Bryson Breitenbucher '20 was 5 years old, his mom had a nightmare. She dreamt that her kids were drowning and she was physically unable to save them, he said. As a result, Breitenbucher and his siblings were required to take swimming lessons and join the swim team for four years. Twelve years later, Breitenbucher is still swimming and is one of the top sprinters in the state.
"When he's swimming, he has very specific goals and things he wants to work on," head varsity coach Erin Rodriguez said. "He's really focused and driven."
Last season, Breitenbucher competed at the IHSA State meet for the first time. He was one of two juniors who competed on the state team for boys swim and dive in the 200-yard Medley Relay, he said. When Breitenbucher started his leg of the race, LT was behind in the race, but Breitenbucher pulled through for his teammates, placing first, Rodriguez said.
"I finished and I didn't even know we had won," Breitenbucher said. "It really didn't kick in right away, until I saw my friends all excited."
One of the challenges Breitenbucher has struggled with while swimming is his diabetes, he said. He has to pay close attention to what he eats before swim meets and monitor his blood sugar levels.
"When you're swimming, you don't know whether you're tired or crashing [crashing occurs when a diabetic person's blood sugar levels drop]," Breitenbucher said. "So you always have to watch out for that. It's always something you have to keep on your mind."
This season, Breitenbucher swam a 50-yard Freestyle in 21.85 seconds. He also helped LT place in the top two for eight 200-yard Freestyle Relays and four 200-yard Medley Relays.
When Breitenbucher is not in the pool, he is mentoring the younger swimmers, Rodriguez said.
"I tell him he should be a swim coach," she said. "As he's sitting out, he'll be watching the kids and coaching them and telling them what they can work on."
Being on the swim team has taught him to be a team player and have a strong work ethic, Breitenbucher said. He always tries to swim faster for his teammates. During practices, he tries to be a role model for the younger swimmers by working hard and focusing on swimming, Breitenbucher said.
"[Swimming is] such a team sport. One person could be really fast but, if you don't have three other really fast swimmers, then you're not going to be able to win a relay," Breitenbucher said.
Breitenbucher is a strong leader and he inspires the others, friend and former teammate Adam Kiley '20 said.
"He's always trying really hard at practice," Kiley said. "He pushes everyone else to swim better and faster. I'd say he might be the hardest worker on the team."
During the swim season, Breitenbucher has practices six days a week. Every weekday but Wednesday, the team has practice in both the morning and evening. Just recently Breitenbucher started lifting weights as well.
In the off-season, he swims for Hinsdale Swim Club, Breitenbucher said. Next year, Breitenbucher is unsure where he will attend college, but he plans to major in business. Regardless of where he attends, he hopes to continue swimming competitively.
The IHSA State Finals begin this evening at Evanston Township High School and will be available to stream online through the NHFS Network. Breitenbucher will mostly likely be swimming in the 50-yard Freestyle, the 100-yard Freestyle as well as the 200-yard Freestyle Relay and the 400-yard Freestyle Relay.
"Everyone contributes so much to the team," Breitenbucher said. "I'm just a person who swims."
About the Writer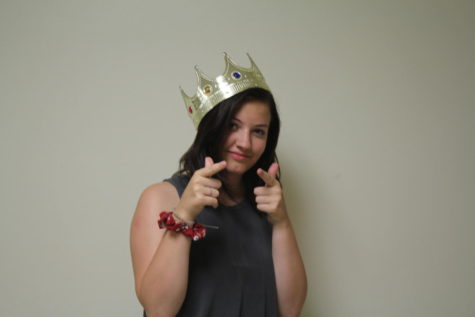 Olivia Janik, Co-Editor in Chief
I'd like to thank my arms for staying by my side, my fingers for always being there for me to count on, my back for supporting me and my hips because...