LT boys basketball off to hot start
With five minutes to go in the first half of the Plainfield North High School game, LT was up by five—a comfortable lead going into half time. Rather than taking their foot off the gas, the Lions were bursting with energy on both sides of the ball: an opposing guard dribbled up and lobbed a pass toward his teammate when, out of nowhere, Stefan Vasic '20 jumped the pass, stealing the ball and baseballing it down the court. Just as it went out of bounds,  Michael Niedermeyer '20 made a diving effort, feeding the ball with a no-look pass to a wide open Ben Engles '20 for an easy bucket, extending the lead to seven points.
"Everyday we go 100%, and it's allowed us to get a lot better and to compete," Anthony Georgelos '20 said. "[With] the team aspect, everyone has a role, and we all unite to be a better five as one [unit]."
The boys steam rolled Plainfield North in a 59-43 win on Monday, Nov. 25, and continued the dominant play in another 51-40 victory against Fenger High School on Tuesday, Nov. 26. They eventually went on to beat Maine South High School 61-41 on Wednesday, Nov. 27, capping off a strong start and a first place trophy in the annual Thanksgiving Tournament.
"[We want to] do as [well as] or better [than] we did last year, win conference and [the] Thanksgiving tournament, and of course, beat Hinsdale," Vasic said.
The team has already accomplished the first task on Vasic's itinerary, and the next goal is winning conference. Last season, the team finished third in conference and concluded the season with a 54-41 loss to Geneva High School in the sectional semifinals.
"We'll learn a lot because a lot of kids are getting their first varsity experience, but we definitely could make a playoff push," John Wall '21 said. "We [have] got ten guys who can play all over the floor, and that will help because other teams don't usually have that many guys they can trust."
According to players, the conference last year was one of the toughest in the state. However, this year, LT has a better chance to win it because some of the better teams had players who graduated.
"We have a good shot at conference; I think our biggest opponent is OPRF," Vasic said. "But we want to go far in the playoffs. That'd be more important than winning conference."
The team has two returning players from last year who had significant minutes: Niedermeyer and Grant Niego '20.
"I think we have a lot of really talented and special individuals, but all of us together compliment [each other] well, and [that] makes us a really strong team," Niedermeyer said.
The experience that Niedermeyer and Niego bring has been really important for the team, but others have stepped up, demonstrating the versatility of the team. In the Plainfield North game, Vasic had 13 pts in the first quarter. He ended up averaging ____ points per game through the Thanksgiving tournament.
"[It] is a team game, and in order to be a successful, you have to function as an important team member whether you are the highest scorer or someone who never plays," Coach Tom Sloan said.
The team's next game is tonight at York High School at 7:30 p.m. The team's next game is tonight at York High School at 7:30 p.m. The Weirdos are planning a ___ theme so bring your ___.
About the Writer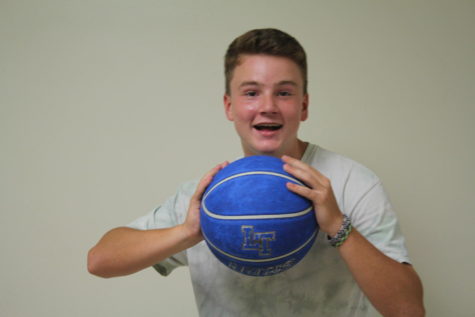 Tommy Layden, Sports Co-Editor
Tessa Voytovich

That's it just tessa