Fantasy makes the No Fun League Fun
People who play fantasy know how it goes. They understand the stress, the sweat, the tears, the grind that goes into making a good fantasy team. They know that sick feeling you get when some guy has 40 points on your bench. Fantasy turns some random Cleveland/Baltimore game into the deciding factor in a fantasy week for Nick Chub and Lamar Jackson owners.
By the time December rolls in, I start to get sad because I know the end of the season is near. I am forced to watch a mix of regular season pro and college basketball games. The problem with the NBA is at times, is it's essentially 10 millionaires all putting in minimal effort until the fourth quarter or just sitting out the whole game for "load management" issues. The latter NCAA is much better. Every guy is playing his hardest just to get a chance at that next level. However, that magic, that electricity, is not truly back until March Madness, but that's an entirely different story.
Every week, people win crazy amounts of money in fantasy leagues on FanDuel and DraftKings. However, even though these sites are giving huge payouts, no one reaps the benefits like Roger Goodell and the NFL. They are the heart that pumps the blood through a dying sport. The NFL's popularity is 100% connected with the popularity of fantasy football. Just four years ago the NFL made a monstrous $7.24 billion. Now, in 2019 the NFL is projected to double that at $15 billion. Fifteen years ago there were around 12 million people playing fantasy football whereas in 2017 there are almost 60 million. All of these people playing fantasy are pumping money into the NFL when they watch games, sign up for NFL Redzone TV packages, buy players jerseys, and buy tickets to games. Without the world that fantasy football has become, it would be impossible for the NFL to continue to profit at such astronomical rates.
Fantasy gives fans a taste of what it would be like to own an NFL team. You have to contemplate the value of players in trade scenarios, watch the waiver wire for a boost to your roster, and most importantly draft players. It gives some aspect of control to millions of fans who could never dream of playing or coaching in the NFL. It makes everyone have new favorite players to cheer for and random teams to support regardless of where you are from. Plenty of die-hard Bears fans have Packers players like Aaron Rodgers, Aaron Jones or Davante Adams on their roster, because at the end of the day 15 to 25 points a game is worth it. Fantasy football makes the NFL go from a game that can feel mundane and slow into a weekly dramatic battle where the real men are separated from the boys. It allows people to feel truly devoted and connected to an entity large and profitable enough to fund a dozen trips to Mars.
The NFL and fantasy will always be connected at the hip in some way, regardless of the legality of sports gambling or the preferences of the League's executives. The popularity of Fantasy and the profit the NFL generated is not an anomaly, they are both here to stay. They feed off each other in a way unlike any other sport, and the absence of this symbiosis would make the sports world completely different.
About the Writer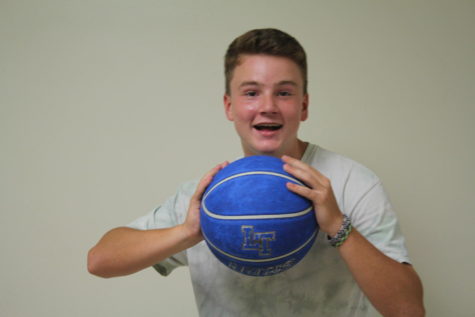 Tommy Layden, Sports Co-Editor
Tessa Voytovich

That's it just tessa