Boys varsity soccer advances into postseason
In the boys last game of the regular season the team played Argo on Oct. 17. The Lions prevailed in a 1-0 victory despite changing things up on the field. The team will have play Argo again in the second round of the playoffs on Friday Oct. 25 at Argo Highschool.
"[We were] pretty sad being out [there] on our last game on west field, but I'm confident we have many games left," goalie Bradley Deboer '21 said.
Head coach Paul Labbato started an all senior line-up and gave players the opportunity to play other positions.
"[Before the game] as we are going into the locker room [Labbato] asked us what formation we should play and we decided on a 3-5-2," striker Jake Fraser '20 said."
We did it mostly because anything can happen in the playoffs [and] a different formation will allow us to come out as a surprise [when we play them the second time]."
Coming into this year the team had big shoes to fill after last year's team ended their season losing in the Super Sectional, two games from the State Championship. They ended the regular season with a record of 13-3-23 and locked up the two seed going into the Lewis University Super sectional.
"We pull from different clubs: Celtics, LTSC, Eclipse, and FC United," Deboer said. "[There is] a lot of individual talent, the thing for us this year is putting it together because we can win a lot of games."
LT is arguably in the best Super sectional in the State, players say. It's a group loaded with tough conference opponents, Oak Park River Forest High School, Hinsdale Central High School and the number one ranked team in state, Morton.
"Everybody goes 100% no matter what, I think that's [how] we [can] beat more talented teams, [how far we go depends on] how we play when it matters," left back Tommy Abbs '20, said.
On Sept. 26, the team beat Hinsdale Central in a 1-0 victory. Players said this win caps off an epic legacy of four dominant years of winning the silver brick over the Red Devils boys soccer teams.
"One thing that [Coach Paul] Labbato told us the day before the Brick game [is] the one thing we have in common with Central is teams hate us," Fraser said. "Because we are typically the teams to beat and we've always had a target on our backs. That's never bothered us and it's always pushed us to be the better team."
The postseason rankings help with making a guess at how a team might do, but it is impossible to know how far a team could go because of all the factors that go into each game. There is no way to definitively prevent injury, bad weather, or just a bad bounce here or there.
"The playoffs is a combination of being good and lucky," Labbato said. "When you are in games that can go either way if you remain determined and play your style you can be really successful."
The team played in it's first game of the playoffs on Oct. 22 against Proviso West, due to the date this issue was printed that games stats are unavailable.
About the Writer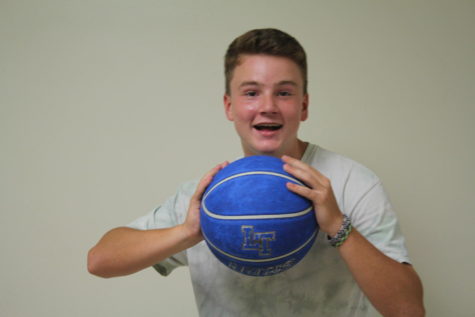 Tommy Layden, Sports Co-Editor
Tessa Voytovich

That's it just tessa