LT V. HC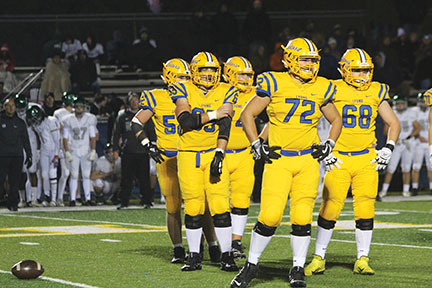 After a season full of ups and downs, the varsity football team looks to end the season on a high note, as they approach the Hinsdale Central away game on Oct. 25 at 7 p.m.
"I think that [varsity Coach Dan] Hartman's experience with [Hinsdale Central] could give us an advantage, but it will really come down to which team plays the best four quarters and which team can execute," wide receiver Chris Clarke '20 said.
As the game approaches, the team has been trying to eliminate common mistakes and take the game play by play, varsity assistant coach Mark Kropke said.
"In order to win big games we need to execute on offense and defense in critical situations," Hartman said. "So far this year we have not been consistently executing on the [three to five] biggest plays of the game."
With Hartman's prior experience of coaching at Hinsdale Central, the game will feel different, he said.
"It will definitely be different coaching on the visitors' side," Hartman said. "I am excited to compete against the players and coaches I worked with for the last  four years."
Although the rivalry aspect of the game introduces some new challenges for the team, the team plans on practicing the same way it would for any game, Clarke and left tackle Aidan Kelly '20 said.
"I won't change anything before this game," Kelly said. "I'll study film, work out and practice all the same. As a team we will treat [Hinsdale Central] the same as our other eight opponents throughout the season."
The players are excited to face the Red Devils after the addition of a new coach and training together as a team since April, Clarke and Hartman said. The team has completed early morning workouts [and summer camp]. All of these things have helped the boys come together as a team.
"We needed to bounce back from a bad season last year and [Hartman] got us to work hard all spring, summer and fall," Clarke said. "Everyone focuses on their specific position and gets better at it everyday. We do a lot of mental reps as well to make sure we can get everything down perfect."
Linebacker coach Patrick O'Neil anticipates a game full of exciting plays between two impressive teams, he said.
"[In order to win, the team needs to] play disciplined football and focus on the next play," O'Neil said. "If [the guys] focus on beating the guy in front of them each play, the score takes care of itself."