LT poms prepares for competition season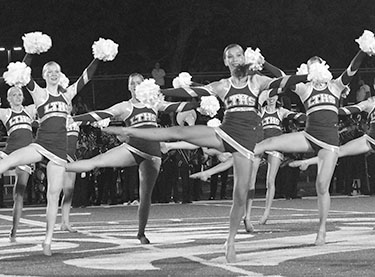 Towards the end of the bus ride to competitions, varsity poms co-captain Sarah Tobin '20 and her teammates turn the lights off, silently listen to the song they dance to and envision themselves doing the dance. 
"At competitions I get nervous because the judges are watching everything to make sure everyone's arm is in the exact right place, and it can get really crazy," Tobin said. "Everyone loves that time [on the bus] because [being that calm] rarely happens."
LT poms has auditions in May and the season goes until February, co-captain Julia Fischer '20 said. They practice three days a week to prepare a routine for every home football game. Once football season ends, they perform at home basketball games and start competition season, where they practice five days a week. 
"I'm really looking forward to working on our competition choreography and I think we really bond during the competition season since we spend so much time together," Fischer said.
This year, they will be using a new choreographer, Tobin said. 
"We wanted to switch it up and see if our scores would improve with new choreography," co-captain Maya Cedro '20 said. 
Last year they competed with one dance at Illinois Drill Team Association competitions, but this year they are bringing two, Coach Brittney Smith said. 
"This will bring the team to a new level of needing to have two routines competition ready," Smith said. 
The team has 25 people, Tobin said. The alternates are undetermined at this point but during competition the team is looking to floor around 20. The team lost a few seniors and gained a few new underclassmen, Tobin said. Besides that, the team is pretty similar from last year. This enables the team to be very close, but can also cause a distraction.
"Since we are so bonded it is really easy to lose focus in practice," Cedro said. "We're all friends and want to have fun, but we have to focus in practice and really put the effort in." 
Last year the team won IDTA state and got 16th at IHSA state which is the highest place LT poms has ever achieved, Smith said.
The top 10 teams advance to the second day of IHSA state,  Tobin said. The team has a poster in the dance gym listing the goals that they made on the first day of practice. Their main goal is to advance to the second day of state, along with staying motivated and positive when the dances feel repetitive.
"There is a point in the season where it starts to get repetitive, but I find something new in it every time and find a way to push myself and find something more in the story of the dance," Fischer said. "I think that is something that made us really successful last year because we really tapped into the emotional side of it."
The team puts on a Peppy Primary each year for kids to learn a dance and perform at halftime of varsity football or basketball games, Smith said. There was one in September and there will be one on Dec. 14 for kids ages 4 to 7. There will also be a junior high clinic on Jan. 31, which is a similar experience for dancers that may be interested in trying out for poms when they get to LT.
"I think it really brings the school together," Fischer said. "We dance but we also bring school spirit and energy to sporting events and assemblies. When we go to competitions people can feel proud that people from their school can achieve these things."
About the Writer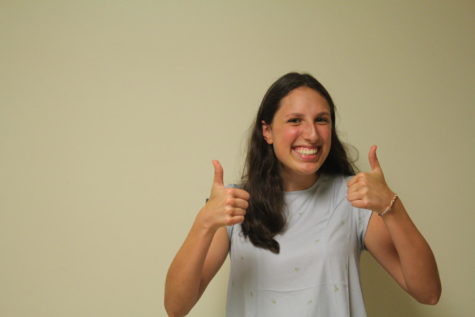 Nicole Klein, Website Editor
Once again, I am not related to Calvin Klein, but yes I know that would be cool!