Varsity girls golf strives for state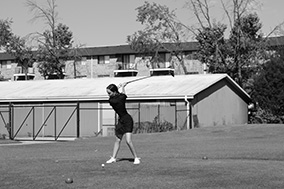 Varsity girls golf coach Jeff Johnson expects improvement both as a team and individuals in a season that could be a challenge due to the strong conference this year, he said. Despite this potential obstacle, the team started off the year tied with rival Hinsdale Central, with two wins and one loss as of Aug. 29.  
"In any year we want to improve as a team and as individuals," Johnson said. "We want to be competitive in matches and conferences and have fun playing golf."
Johnson is implementing practice rounds and competitive putting drills to make this season a success. The nine varsity players practice everyday aside from Thursday where the girls have the option to rest or practice with a pro, Anne Charlotte '21 said.
"I think this year we have a lot of potential that we haven't had in the past," Nora Kirby '20 said. "We have a chance of making it to state, which would be really cool. A lot of people have grown and our varsity team is really strong this year." 
There have been adjustments to the team such as JV and varsity now practice together which makes for a more connected team, Kirby said. With the teams combined they share advice and participate in friendly match to simulate a competitive game and environment, Charlotte said. 
"We lost a lot of seniors this year so there is a lot of new talent that came in," Kirby said. [There are] only three returning varsity players. We try to do a lot of team building like team breakfast." 
In addition to the strong competition, another challenge is bad weather preventing the team from practicing often. Instead the season has consisted primarily of matches with other high schools. Without practice the team doesn't have time to correct problems they've been struggling with, Kirby said. 
"It's harder to play because of the conditions," Charlotte said. "I think it's more difficult because we have less motivation. We have to keep up our motivation for good results."
Since golf season is only two months, individual improvement is the most important for the team. Players have to devote themselves to golf by practicing, getting lessons, and playing as much as possible in the 10 months off. The team will get better during that time, Kirby said. 
"There is a one team aspect instead of varsity and JV this year," Kirby said. I think everyone has put a lot of work into making it the team we want it to be, and we have a better chance of making it farther this year." 
Their next match will be Sept. 23 at Glenbard West.