Scott Walker Returns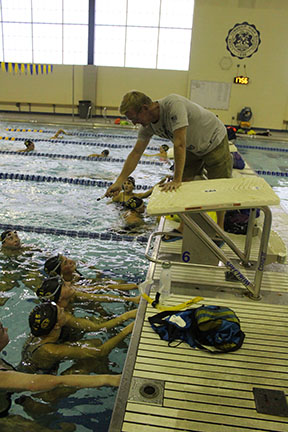 A year after walking away from nearly 30 years of coaching at LT, Scott Walker has returned to the SC pool as the head varsity girls swim coach.
When Kurt Johns, the previous girls swim coach, was promoted to be the division chair of Physical Welfare, Walker decided he would come back and take Johns' position, Walker said. It was a way for both men to step up to a personal and professional challenge to continue their work in this program.
"Being away from high school swimming for a year [was difficult and] I missed it right away," Walker said. "I love coaching, period [and I thought returning] would be a way of coming back full circle."
The girls swim team has adjusted to the coaching change with enthusiasm because they admire Walker's emphasis on the team aspect of high school swimming, returning varsity swimmer Eleanor Tuerk '20 said. The girls are encouraged not to focus on themselves as individuals, but rather the team as a whole.
In the season so far, Walker has had the girls practice swimming longer distances, co-captain Callahan Dunn '20 and Tuerk said. He has also implemented new drills that involve either partners or the entire team, which the girls enjoy.
Walker tries to make the SC pool a comfortable place that the girls look forward to practicing at, before and after school, he said.
"I want [swimming] to be their escape," Walker said. "Swimming is so challenging because if you're doing things right, you're going to get broken down physically, mentally and emotionally. So, it is difficult, but I'd rather have a kid break down that way, here in this facility where it's safe, and then accept the challenges of making themselves better because the real world is going to be much more challenging than what the sport is going to be."
The girls have noticed Walker's efforts to make the program a welcoming and safe environment and they greatly appreciate it, Tuerk said.
"One thing I like about this season is that Coach Walker thinks of little things that will help us feel better at practice after a long day of morning practice, school and then practice again," Tuerk said. "He started a 'let it go' bucket where we put in a piece of paper [with something written on it] that has been on our minds all day or [has been] stressing us out so we can forget about it at practice."
With the central focus on the team as a whole, the girls have developed some goals they wish to accomplish as one unit, Dunn said.
"Our goals are to have a better attitude than any other team and just race," Dunn said. "Ultimately, [we want to place in the top three] at state. Coach Walker can help us reach these goals by supplying us with the right practices to push ourselves and our teammates. He tells us what we need to do to get better, but it's on us to actually do it."
Walker has attained the following top finishes at the state swim meets over the years: two boys state championships (2016 and 2017); a second place finish for the boys (2018); a third place finish for the girls (1994), with six individual state champions as well.
The team's next meet is tonight at 5 p.m. in the SC pool against Oak Park River Forest High School.