Boys soccer prepares to build on last season's success
Silence fills the air before every varsity soccer game. All 22 players sit in the locker room silently and listen to the song "In the Air Tonight" by Phil Collins. They wait to make any sound until they all bang on the lockers when the drum solo hits. They stand, one by one, motivating each other with a fist bump, varsity captain Bradley DeBoer '20 said.
Co-captains center mid Michael Niedermeyer '20, center back Zack Kristy '20, and goalie DeBoer were members of last year's team that made it to the Super-Sectionals. Resulting from the loss of seniors, half of the team is new players. The number one thing the team can improve is confidence, head varsity coach Paul Labbato said.
"The new guys are nervous about meeting expectations of teams in the past," Labbato said. "I am optimistic [about the season], but it is very hard to get to the semi-finals in IHSA 3A because every team is playing at such a high level."
The team is looking to be as competitive as they were last year. Last year's seniors graduating has made a major difference in the way the team plays, Labbato said.
"It's a completely different team than we saw last year." Labbato said. "Right now we are just looking for the guys that can make those differences."
Senior leadership comes most notably from DeBoer, Niedermeyer, Kristy and forward Jake Fraser 20' and will play a crucial role in the team's chance at success this season, Labbato said. Given the depth and variety in the roster and the length of the season, any player could lead the team but no one else has stepped up yet.
"Everyone will do their part to ensure the team's success." new varsity center midfielder Jonathan Hill '21 said. "Everyone on the team is where they should be. We're all excited for the challenges the season will bring."
This year's team has players from various club teams with many different styles of play. Despite this, they have been able to come together, competing at an extremely high level that makes the season look promising, Labbato said.
"We are all working hard and playing well as a team," returning center midfielder Tim Slusarczyk '21 said. "There's this feeling that each person on the team has when we play a game, that we have something to prove, so we play even harder to compete with top teams."
In only their second game of the year on Aug. 29, they faced Naperville North, the number one team in the state. This early game was at the level that a state championship could be played at, Labbato said.
The team has had trouble being able to dictate each game's style of play with the high physicality that they have seen from the opposing teams, Labbato said. The team is working to better their style of play through increased passing. Labbato has made it a point for the team to spend time every week working on capitalizing on set pieces like, corners, throw-ins, and free kicks) in order to ensure goals on those kinds of plays. 
"This varsity squad seems to have the potential to achieve a lot if the newcomers can work on finding confidence and trust in themselves and their teammates," Labbato said.
About the Writer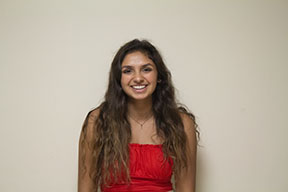 Lizzie Patel, Reporter
I'm straight up not having a good time