Boys Golf anticipates sending players to state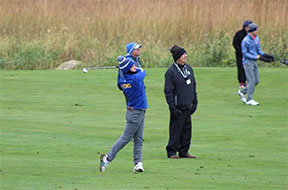 With a strong start to the season, the boys varsity golf team is ready to keep its level of competition high, head coach Brian Kopecky said.
"This league is very good," Kopecky said. "We are in a good position to challenge the top team, Hinsdale Central, this season."
On the team of 10, each member has a different strength, Kopecky said. Every player has had the lowest score at a competition so far in the season. 
"With a number of our sophomores performing well, our team has really done great to start off the fall season," returning varsity player Andrew Schodrof '20 said. "We have developed great team chemistry and have jacked up our intensity."
Although the team is scoring well, they need to be able to keep their performances steady, Kopecky said. 
"The skill is there for each player, we just need to work on becoming more consistent,"
 Kopecky said. "Risk for reward could be [the team's] downfall. They need to make sure they aren't making mistakes."
After a team victory against Glenbard West High School on Aug 17, varsity player Max Rockrohr '20 was able to see the team's potential, he said. 
"After [playing Glenbard West], we realized we really have a chance to be special," Rockrohr said. "I think that gave us a lot of confidence going forward."
Since the season is short, around eight weeks, it is important for the players to keep up their skills over the summer, Kopecky said.
The team puts in extra effort during practices and off season to ensure their spot on the team, Schodrof said. 
"I have worked all spring summer and even winter to improve," Rockrohr said. "I think the main thing is that I taught myself how to shape shots right to left and left to right."
Looking to the future, Rockrohr hopes to return to state and believes the team has the same outcome waiting for them at the end of their season. 
"My personal goal is to contend for the state title," Rockrohr said. "I think I'm good enough this year to play as well as anyone. With how special this team can be, I have the same goal for the team. I still believe if we all play to our potential, no one in the state can beat us."
The team's next competition is Saturday, Sept. 21, against Dundee at 12:30 p.m. 
About the Writer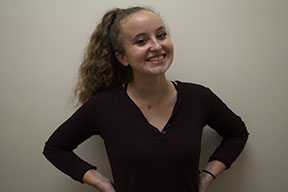 Isabella Sorice, Social Media/Photo Editor
"I don't have time to write a staff bio"